Kanye West's highly anticipated album "Yeezus" hit stores on Tuesday. While widespread leaks made much of the album unsurprising, the track listing for West's controversial song "I Am a God" includes one unexpected collaborator.
The official tracklisting on the iTunes store lists the third track on "Yeezus" as "I Am a God (feat. God)." While the album also includes collaborations with Frank Ocean, Daft Punk, Chief Keef, and Kid Cudi, the only official collaborator listed on the tracklisting is "God."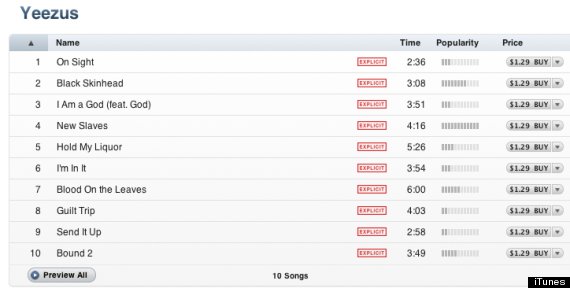 West previously came under fire for both "I Am a God," as well as the album title "Yeezus," as some listeners took issue with the rapper making comparisons to a higher power.
While the album was not available for pre-order and did experience the aforementioned leak, "Yeezus" is already the No. 1 album on iTunes.
PHOTO GALLERY
Kim Kardashian and Kanye West
BEFORE YOU GO