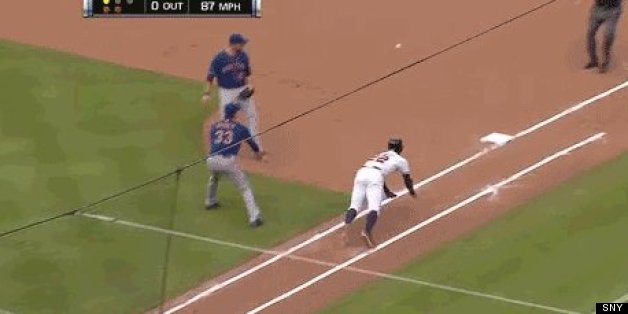 Who's on first? No one in a Mets uniform.
Just when you thought that you had found the GIF to define the Mets' 2013 campaign, Matt Harvey and Lucas Duda combined to produce another inimitable moment of ineptitude at Turner Field on Tuesday afternoon.
With Harvey, the franchise's prized pitching phenom, having already twirled six hitless frames, the Mets had a chance at history. Instead, hilarity ensued.
Leading off the home seventh, Atlanta Braves outfielder Jason Heyward bounced an 87-mph change-up back to the first-base side of the mound. Harvey leapt from the hill and scooped up the bouncing ball while his momentum carried him toward first base. As Heyward hustled up the line, Harvey tossed underhand toward the bag. The ball would then bounce harmlessly several feet past it ... as no one was covering first. The Mets' latest first baseman, Lucas Duda, had come off the bag to field the ball and hadn't gotten back after Harvey took over the play. Perhaps believing that his eyes deceived him, Heyward slid into the uncovered base.
SAFE!
GIF: Matt Harvey Lost His No-Hit Bid On This Play
Although the Mets would erase Heyward with a caught stealing shortly after his infield hit, Harvey's chance at just the second no-no in franchise history was erased, too. Despite the awkward moment, the Mets would go on to win 4-3 and Harvey would total 13 strikeouts.

For the latest in Mets blunders be sure to keep track of #LOLMets on Twitter.
BEFORE YOU GO
PHOTO GALLERY
2013 MLB Season Highlights