Rupert Murdoch has been a busy man as of late. He filed for divorce, he's splitting his media empire into two separate companies, and the fallout from News Corp.'s devastating phone hacking scandal seems far from over.
This all means that his time for tweeting sweet nothings has been somewhat limited, until Tuesday, it seems, when he tweeted just two words to his nearly half a million followers.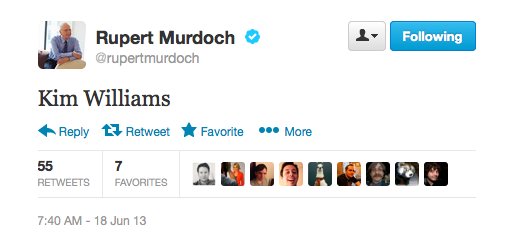 Who is Kim Williams, one might ask. Well, he is the apparently the head of News Limited of Australia's News Corp. branch. Why Murdoch tweeted his name, and then quickly deleted the tweet, remains a total mystery.
A weird return to the Twitterverse, indeed.
BEFORE YOU GO
PHOTO GALLERY
The Murdochs