"One million five hundred thousand Jewish children were murdered in the Shoah. Man will never be able to face this fact with full comprehension," Israeli author David Grossman writes in the text to a new installation titled "Traces of Life: The World of Children" at the Auschwitz-Birkenau State Museum in Oświęcim, Poland.
Michal Rovner, an Israeli artist, has unearthed a treasure trove of emotionally charged artworks. From pencil drawings of armed soldiers to smudged depictions of the Star of David, the pieces are part of showcasing the simple yet striking sketches of young victims of the Holocaust.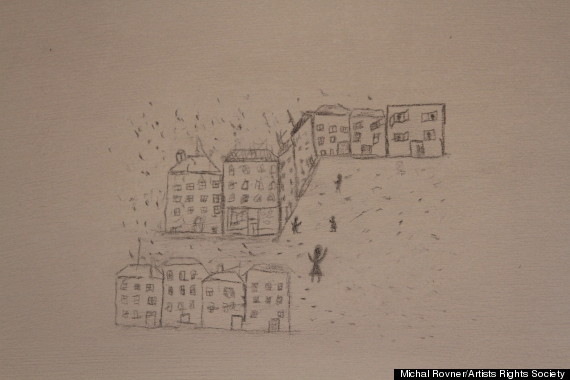 The images were sourced from Yad Vashem as well as the Shoah History Archive of the Jewish Museum in Prague, portraying diary-like drawings made by Jewish children before their tragic deaths. Rovner uncovered the images herself, copying the drawings by hand and displaying them on the walls of Block 27 in Auschwitz-Birkenau, as part of the larger permanent exhibit, "Shoah."
"After seeing some of those drawings in frames, reproductions behind glass, I suddenly realized how much power can be in just a small detail in the margin of the page," Rovner explained in a press release for the exhibit. "I decided not to change, or appropriate the drawings. I believe that no artist could produce any better work on the topic of children during the Holocaust than what the children themselves had already created."
The works curated by Rovner, an artist who specializes in sculpture, video and performance, are an intimate tribute to the children who perished during the Holocaust. Scroll through the images below for a preview of "Traces of Life" and let us know your thoughts on Rovner's work in the comments.
PHOTO GALLERY
Traces of Life: The World of Children