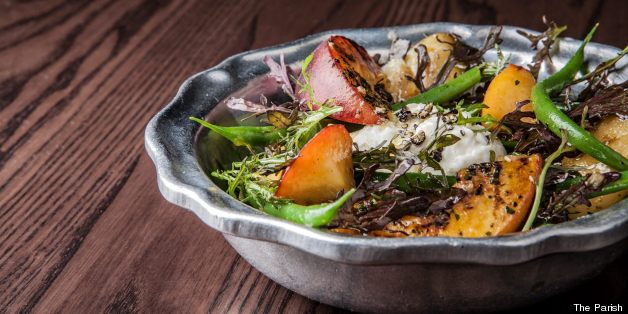 This story comes courtesy of LA Weekly
Once upon a time, eating well in downtown Los Angeles meant ducking into one of a very few fine dining palaces, where you would dine prettily at Water Grill or Patina, aesthetically if not physically very far removed from the grungy streets and abbreviated skyline of the city's epicenter. Only a few years and thousands of loft dwellers later, give or take, downtown L.A. now has some of the best restaurants in town, pretty glass-and-metal bistros and neo-Italian food lofts and DIY odes to sort-of Spanish cuisine. You can walk or bike to beautiful food, served outside under tree canopies and sparkly lights. You can eat stellar tacos or exquisite omakase or fried pigs ears or glorious porchetta in what once looked, particularly at night, more like the set of Mad Max than a vibrant part of the city. If this is urban evolution, it's tasting pretty good right now. Turn the page for our picks for the 10 best restaurants in downtown L.A., realizing that this will probably all change again in a few years, with or without pro football.
PHOTO GALLERY
10 Best Downtown Restaurants
Follow LA Weekly on Twitter, Facebook, and read more from their news blog The Informer.