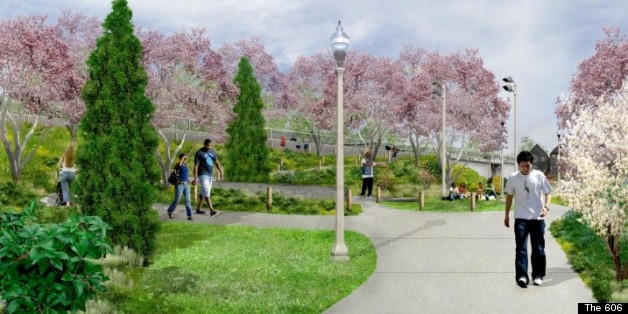 The Bloomingdale Trail, we hardly knew ye.
Just months after officials tried to rename the long-awaited elevated park and trail system simply "The Bloomingdale," the project has been permanently re-christened "The 606."
On the 606 website, project manager The Trust for Public Land writes the name was chosen in homage to the 606 zip code prefix all Chicagoans share.
(See design proposals of The 606 below.)
Beth White, director of TPL's Chicago office, told the Tribune the new name came about to "dispel confusion surrounding the trail." In the past, some have thought it was located in Bloomingdale, Ill., while others would call it the Bloomington Trail.
Still, park supporters told WTTW's Chicago Tonight the new name took some getting used to.
"I have to confess, I didn't immediately get it," said Chicago's Deputy Mayor Steve Koch.
"When it was first presented, we all sort of went, 'huh?' said White.
"And then when it's explained to you, it makes an enormous amount of sense," said Koch. "I think it's an identifier for the whole system."
Not everyone is a fan. Time Out Chicago blasted the new name as "generic enough to appeal to all potential donors."
According to Our Urban Times, the name was picked by Matt Gordon, a professional "namer" with the global brand consulting firm Landor Associates.
Apparently, no one looked far back enough into Chicago's history the way collector Jim Linderman has: Linderman noted last year on his pulp and pinup culture blog, Vintage Sleaze, "606" is the name of a one-time strip-tease joint at 606 S. Wabash Ave. (the same was also noted by A.J. Liebling in his book, "The Second City.")
According to the final design plans obtained by Chicago Tonight, the nearly three-mile system will include ground-level neighborhood parks, landscaping, public art and even an observatory, designed by the Adler Planetarium.
The proposed greenway stretches 2.7 miles along the abandoned tracks once used by the Bloomingdale Line (and later Soo Line Railroad) running along Bloomingdale Avenue just north of North Avenue. The project connects the Bucktown, Wicker Park, Logan Square, and Humboldt Park neighborhoods on Chicago's Northwest Side.
Proposed construction is said to be starting sometime this summer. Its first phase is set to open in fall of 2014.
PHOTO GALLERY
The Bloomingdale Trail Is Now 'The 606'