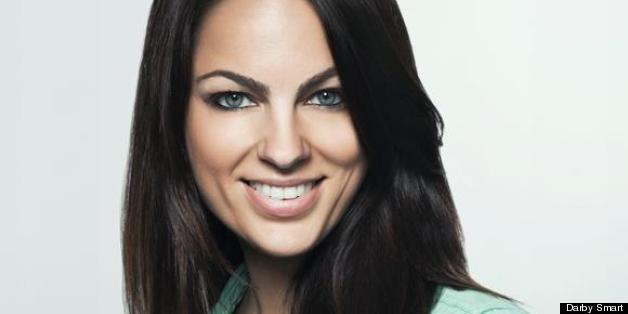 Nicole Shariat Farb had a lucrative job she says she loved as an executive at one of the world's biggest investment banks, then she gave it all away to pursue a much riskier endeavor: her very own startup.
"Goldman is a comfortable job," she said in an interview with The Huffington Post this week, reflecting on her four years at investment banking giant. However, "when you're really, really passionate about something, when you really believe in it, I couldn't let the idea go -- if not now then when?"
Farb, who had been the head of Goldman Sachs' Emerging Private Companies group, left in March to launch a startup with co-founder Karl Mendes called Darby Smart. The company has raised $1 million in seed funding from a variety of angel investors and advisors.
"It was hard," she said about leaving her job to start her own business. "But the research I did convinced me that there was a real problem out there and that my business model could fix it."
The service, which launched Tuesday, creates pre-packed kits, complete with supplies and instructions, for fashionable do-it-yourself projects that range from home décor to jewelry. The number of kits are capped at 100 to 500 to maintain a certain level of exclusivity, and customers will have the ability to vote popular projects back, she explained.
Farb has always loved do-it-yourself projects. "I joke that my first business was making and selling hair bows when I was 10 in my neighborhood," she said.
But Farb spotted a systemic problem with the crafting industry that she was willing to bet her career on. After spending hours, even days working on a do-it-yourself project, the end product was not always as good as she hoped.
She recalled, with a laugh, a failed "Thank You" note project that ended in disaster. Even worse, her projects didn't even come close to the magnificent home-made crafts she saw on social networks like Pinterest.
Pre-packaged kits for certain kinds of crafting projects aren't necessarily new. But what sets Darby Smart apart is an innovative model that leverages the expertise and creativity of do-it-yourself designers and key influencers on Pinterest—the company has currently enlisted 10 designers to help create "viral" do-it-yourself kits. Prices of the kits range from $24 - $44 and give aspiring and inexperienced crafters a leg up in tackling elaborate homemade projects. Darby Smart shares a percentage of revenues with the crafters who design the kits.
Crafting is a huge market, according to Farb, noting that craft supplies in the United States is a $29 billion industry. But it's also "broken market" for both experienced and inexperienced do-it-yourself enthusiasts, she said.
"These people with 4 to 5 million followers on Pinterest … small business people who want to monetize the ideas and crafts they come up with, are frustrated because there is not much monetization," she explained. "And people like me are frustrated because we have all these ideas but we have no connection to commerce." Darby Smart, she said, aims to fix the problems of both groups.
BEFORE YOU GO
PHOTO GALLERY
11 Hot Product Fads That Made Big Money