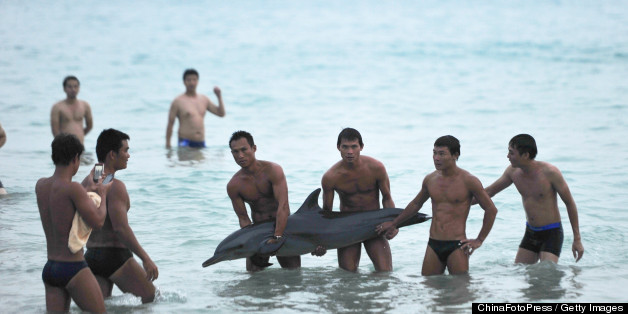 Chinese social media is buzzing with controversy this week after photos surfaced of tourists picking up and taking pictures of a wounded dolphin, which later died.
According to Chinese site People's Daily, the dolphin was first discovered on Sunday evening, stranded in Dadonghai, a resort in the country's southern Hainan Province.
In a series of pictures published by various Chinese media outlets and shared extensively on the country's Twitter-like social media site, Weibo, the dolphin can be seen surrounded by tourists. In several photos, men lift the mammal out of the water and flex their muscles.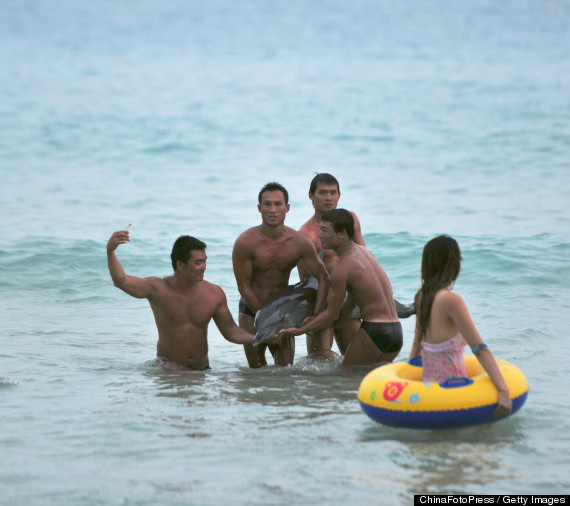 While rescuers eventually arrived, no one attempted to stop the group of tourists from manhandling the animal for close to 30 minutes, reports the South China Morning Post.
Around midnight on Sunday at Hainan's Aquatic Wild Animal Rescue Center, the dolphin died of excessive bleeding from its tail, possibly due to an earlier collision with a fishing boat, according to the South China Morning Post.
According to National Geographic, commercial fishing operations continue to pose grave threats to dolphins around the world.
CNN published several of the angry comments left by Chinese social media users who criticized the tourists as a "group of animals" and chastised China in general as "lacking moral values."
Some reports linked the incident to another recent controversy involving a Chinese tourist: the vandalism of a 3,500-year-old Luxor Temple carving in Egypt.