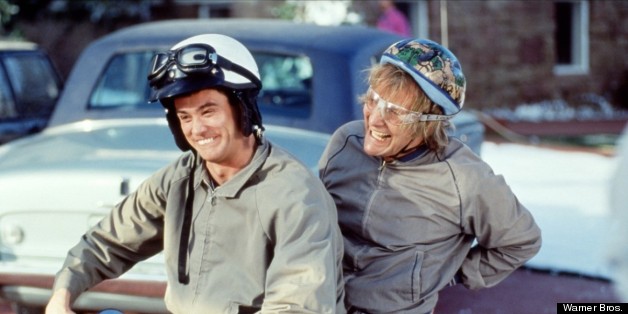 There was a chance: According to Deadline.com, Universal will distribute "Dumb & Dumber To," the long-discussed sequel to "Dumb & Dumber," with production company Red Granite footing the film's $35 million bill. Original stars Jim Carrey and Jeff Daniels are set to return for "Dumb & Dumber 2," with Peter and Bobby Farrelly acting as co-writers and directors.
Earlier this month it was reported that "Dumb & Dumber To" had been dropped by Warner Bros., the studio that owned the rights to "Dumb & Dumber" and had been developing its sequel. That Warner Bros. had cold feet was of little surprise: Last June, Carrey made public the studio's lack of interest in the project by momentarily stepping away.
"I would have thought 'Dumb and Dumber To' was a no-brainer, after all it's implied in the title," Carrey said in a statement.
"Dumb & Dumber To" has been in some stage of development since 2011. The original film, which starred Carrey and Daniels as Lloyd Christmas and Harry Dunne, was released in 1994 and helped turn Carrey into a box office megastar. As Peter Farrelly has noted, the sequel will make use of the passage of time.
"It picks up today," Farrelly told Moviefone last April during press for "The Three Stooges." "It's 17 or 18 years later. It's not like a month after that happened. It's today. And we explain what they've been doing all those years."
For more on the "Dumb & Dumber To" deal, head to Deadline.com.
[via Deadline.com]
PHOTO GALLERY
Funny Jim Carrey Moments