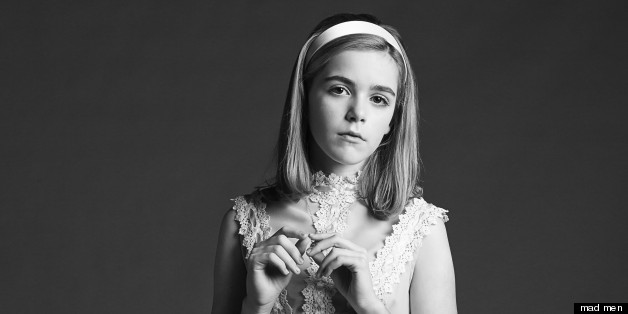 Sally Draper (Kiernan Shipka) is in full-blown rebellious teenager mode on "Mad Men" these days. She's hanging out with boys, smoking cigarettes and drinking alcohol.
Her naughty behavior isn't without merit, though: Sally did recently walk in on her father cheating on his new wife with a woman who happened to be the mother of the boy she had a crush on (we're looking at you, Don and Sylvia).
In an interview with Vulture's Denise Martin, Shipka admitted that she doesn't see the brightest of futures for Sally for the show's final seventh season.
"Next season I sort of see Sally in that downward spiral. There's not much room for her to go back up," the 13-year-old actress said. "A lot of people thought through seasons past that she'd hit her bottom, but now is truly where she's going to get herself into trouble. I hope so. It would be really fun. It'd be awesome."
Although viewers are horrified by what Sally has witnessed over the course of her short lifetime -- remember when she walked in on Megan's (Jessica Pare) mom (Julia Ormond) going down on Roger Sterling (John Slattery) -- Shipka finds Sally's road to rebellion thrilling.
"If I was a viewer only, I'd want her to end up happy. But as the actor, I feel like it would be fun if Sally went through more ups and downs next season. This season, we saw a different side of her, and I'd like to see her rebel a little more," she told Vulture. "She's certainly going to get a lot older, maturity-wise. I hope she has some kind of wild ride."
Though Shipka said playing Sally's more difficult scenes doesn't get to her personally, some fans have difficult separating the actress from her character. "I've gotten a lot of people coming up to me saying how bad they felt for me, which is kind of cool because I feel like all these characters get different reactions whether people love to hate characters or if they relate with them,'" she told E! News. "Someone came up to me the other day and was like, 'I just want to give you a hug so badly.'"
In addition to mastering shocked and anguished reactions, Shipka has also perfected the art of the eye roll.
"My eyes, by the end of this season, were so rolled out. I couldn't move them! I was afraid they were going to freeze like that some times. Literally every scene I had to do at least three eye rolls. I'm getting so good at it now," she joked to Vulture.
For more from Shipka, head over to Vulture.
Catch the season finale of "Mad Men" on Sun., June 23 at 10 p.m. ET on AMC.
PHOTO GALLERY
"Mad Men" Season 6 and 7