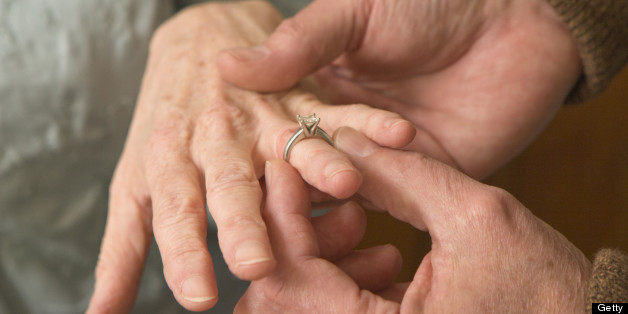 After 30 years of asking his girlfriend to marry him, a British man finally got the answer he was waiting for: yes!
Chris Green, 75, and Ann Turner, 72, have been together since 1973, Yahoo! News reported Wednesday. Over the years, Green has proposed to Turner hundreds of times and always carried the same engagement ring in case she said "yes." But she never did.
"It's never been because I don't love him, I absolutely adore Chris," Turner told Yahoo!. "He used to go to great lengths to propose, taking me out for meals and weekends away and I always knew the big question was coming but I always said the same 'Sorry love, I love you but I don't want us to get married.'"
Green proposed yet again at his 75th birthday party in November 2012 -- and this time, Turner decided it was time to tie the knot. She told the Daily Mail Wednesday that several of her and Green's children (they have four each, from previous marriages) became sick last year, and she wanted to make their relationship official for them. The wedding will take place this Friday.
What's the secret to a successful long-term relationship? The world's oldest couple, married more than 87 years, told the Daily Mail that couples should be faithful, look after each other and be good listeners.
Click through the slideshow below to see HuffPost readers' advice for a happy marriage.
PHOTO GALLERY
Readers Advice On How To Have A Long Marriage
Keep in touch! Check out HuffPost Weddings on Facebook, Twitter and Pinterest.