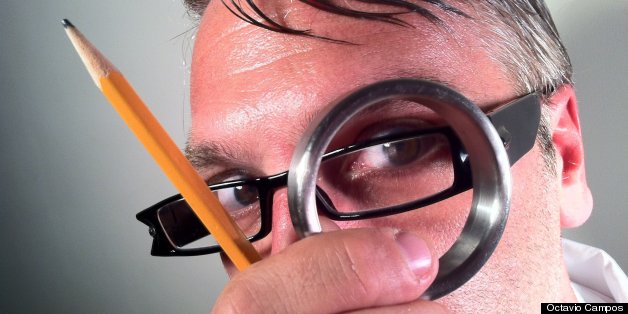 This article courtesy of Artburst Miami.
By Neil de la Flor
The second annual Miami Performance International Festival, presented by Edge Zones and curated by Charo Oquet that runs through the month, proves that performance art is still the wild and unruly beast that it should be.
Miami-based artists, including Belaxis Buil, David Rohn, Octavio Campos, Pioneer Winter and Benoit Izard among others, showcase work that provokes, challenges and enriches Miami's zeitgeist through highly stylized and sexualized content.
Buil's "Ultimate High" tiptoes around the concepts of greed, beauty, consumption, psychology, time and space. It is a performance that "masquerades as a room with evidence of what could be the preparation of a party. In the room stands a body wearing sagging clothes (or is it sagging skin?)."
Trans-disciplinary artist Octavio Campos' "HypNO TechNO" introduces Mommy Hooker, the self-proclaimed buffoon in a dance theater bodysuit. Mommy Hooker subverts the very notion of perfection and forms her (or his) persona from the psychological madness of Freud's most severe therapies.
The first week of the festival featured "Affordable Care" by David Rohn, which examined the role healthcare plays in the lives of the aging.
During the final week of the festival, catch Pioneer Winter's "Timed Saliva," in which Winter and Campos will make out on stage while Patti Hernandez fluffs Winter. Winter plays a 'straight' prostitute whose actions reveal the phenomenon of gay-for-pay, ageism in the gay world and the gay adult entertainment industry as the machine that perpetuates this dysfunctional system.
(Story continues after photo.)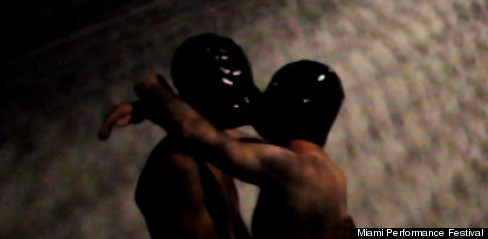 In "Kissers," also performed in the last week of June, Izard has devised a performance in which Izard and Campos are sealed in a kissing position by a double-headed mask.
"They stay kissing and hugging for the whole length of the piece," says Izard. "What is happening is an extremely strong pole of attraction. Who are these kissers? They are enclosed so they become their own center of gravity." It forces the question: how much love can we take and where does that leave us?
Check Miami Performance International Festival's web site for remaining performance showtimes.

BEFORE YOU GO
PHOTO GALLERY
Scenes From Miami Performance Festival 2012