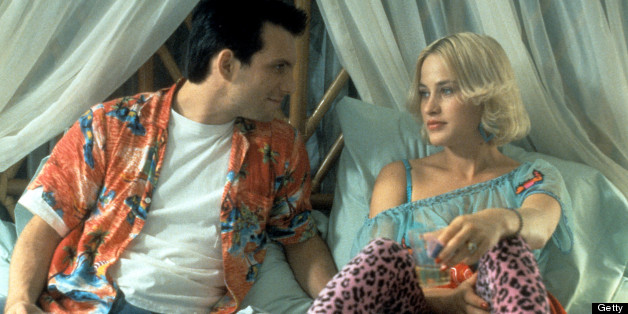 James Gandolfini will be forever remembered as Tony Soprano -- it's how both the New York Post and New York Daily News identified him after his death on Wednesday at the age of 51 -- but he first rose to prominence after a small but memorably turn in the 1993 film "True Romance."
The thriller, directed by Tony Scott and written by a pre-fame Quentin Tarantino, focused on a young hustler named Clarence (Christian Slater) and the woman of his dreams, Alabama (Patricia Arquette), both of whom get in trouble after stumbling on a large quantity of cocaine. Gandolfini played a tough gangster named Virgil in "True Romance," and shared one incredibly violent and heartbreaking scene with Arquette.
"My heart goes out to his family. James was incredibly talented and I feel very fortunate to have had the chance to work with him," Arquette said in a statement to HuffPost Entertainment. "He was very committed during the shooting of 'True Romance.' I remember Tony Scott saying he slept in his suit in his car to stay in character. His work as Tony Soprano was flawless. It is a real loss to the creative community."
Head here for more on Gandolfini's varied film career; watch Gandolfini and Arquette in the very NSFW scene from "True Romance" by clicking here.
PHOTO GALLERY
Stars Express Condolences Over James Gandolfini Death