GOP strategist Karl Rove and Democratic strategist Donna Brazile made an effort Wednesday to bridge the chasm of hyperpartisanship, dancing together at the National Conference of Volunteering and Service.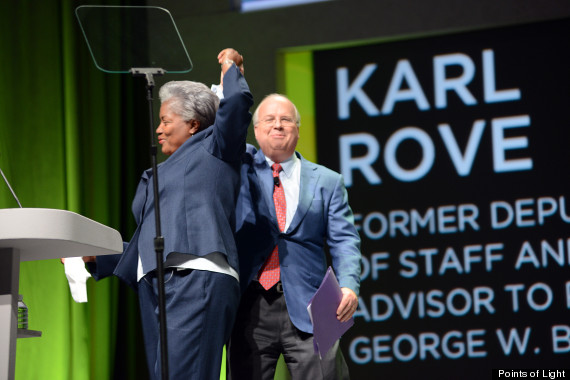 The event, hosted by Points of Light and JPMorgan Chase, was designed to launch a "year-long, nationwide campaign to bring together rivals in politics, entertainment, and sports with the goal of inspiring millions to unite in service to their communities."
After their dance, Brazile reportedly told Rove, "I know that you can shake a groove thing."
Rove replied, "That's the only time you'll see a Norwegian dancing."
Lies! Let's examine the video evidence from the Radio and Television Correspondents' Association Dinner in 2007. View at your own risk.
If you'll go to the 55-second mark, you'll see what appears to be a Norwegian man showing off some moves. Though perhaps Rove was right, and that was not dancing.
BEFORE YOU GO
PHOTO GALLERY
GIF Guide To Political Dance Moves