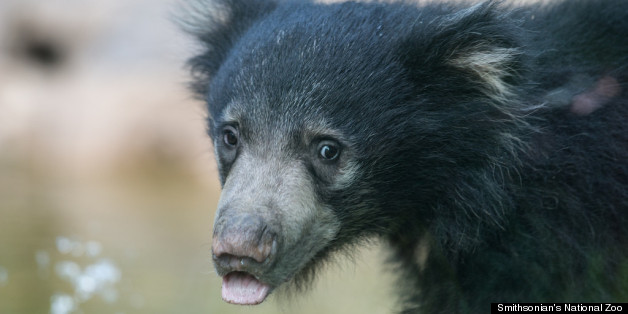 Say hello to Hank, the National Zoo's sloth bear cub, born in December. (Hi Hank!)
He's spent the last six months with his mother inside a den, where he could be seen on a webcam.
But now you can meet Hank in the fur, as it were. This little guy made his public debut on the zoo's Asia Trail on Thursday morning.
Our sloth bear cub Hank is now on exhibit on Asia Trail with his mother Hana! http://t.co/UX6uUH5cS7

— National Zoo (@NationalZoo) June 20, 2013
Check out pictures from Hank's first day! Story continues below...
PHOTO GALLERY
Hank, Adorable Sloth Bear Cub, Makes National Zoo Debut, June 20, 2013
The adorable Hank, whose name was chosen by the public via Facebook and is a combination of his parents' names -- Hana and Francois -- is the first sloth bear cub born at the Zoo in seven years.
Hank is one of only seven sloth bears born in North America under the species survival plan. The sloth bear is considered a "vulnerable" species by the International Union for Conservation of Nature and Hank alone raised the population of sloth bears under human care by three percent.
According to the zoo, Hank's climbing skills have developed enough to tackle the rocky terrain of the sloth bear exhibit. We recommend you verifying that claim by paying Hank a visit yourself.
Take a look at some of the other cute animals that were born recently at the zoo!
BEFORE YOU GO
PHOTO GALLERY
Cute Baby Animals Born At The Smithsonian's National Zoo