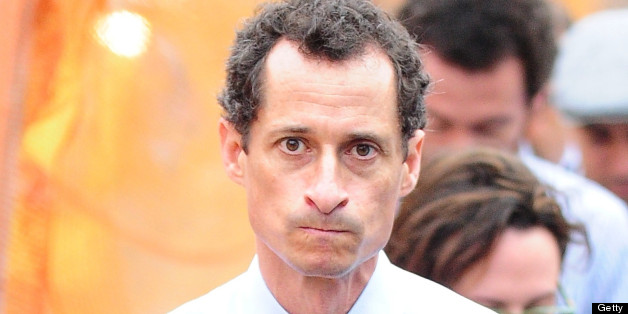 Anthony Weiner has apologized for a voter's use of a homophobic slur in reference to openly gay mayoral candidate Christine Quinn.
The apology was prompted by a story in The Washington Post on Wednesday, in which a reporter overheard Weiner talking to an female voter about her pick for mayor:
"You a registered Democrat?" [Weiner] asked an elderly woman wheeling a shopping cart by him.

"I am," she said. "And I'm not voting for uh, what's her name? The dyke."

"Okay. I just need you to sign the petition to get me on the ballot," said Weiner, who then noticed the incredulous reaction of a reporter and added, "and you really shouldn't talk that way about people."

"Oh, I'm sorry," the woman said.

"It's okay," Weiner responded. "It's not your fault."
Thursday's statement, which was tweeted out by Weiner's spokeswoman Barbara Morgan, condemned anti-gay sentiments as "vile and destructive."
"I admonished the woman amid a large crowd on a street corner and by no means believe that anything about her comment was appropriate," Weiner said in the statement. "If the impression is that I did, I apologize because behavior like this will absolutely not be tolerated in my administration."
An April poll found Weiner to be in second place behind Quinn in the run to replace Michael Bloomberg as mayor.
BEFORE YOU GO
PHOTO GALLERY
2013 NYC Mayoral Candidates