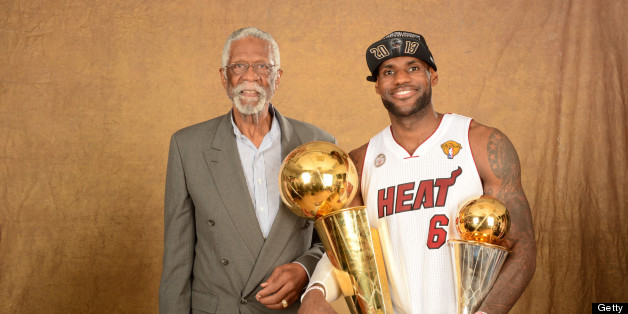 At age 79, Bill Russell can still turn in a memorable Game 7 performance.
The man with more appearances (5) and wins (5) in seventh games of the NBA Finals as well as more overall NBA championships (11) than any other player in history had a courtside seat for the climactic contest between the Miami Heat and San Antonio Spurs on Thursday night. Despite his prime viewing location and the back-and-forth nature of the thrilling Finals finale, Russell didn't seem particularly absorbed by what he was watching at one point deep into the third quarter.
The NBA icon yawned the yawn GIF'd 'round the Internet.
GIF: Bill Russell Yawning During Game 7
While the 9 p.m. start to the game could be more responsible for the yawn than the quality of the play, Russell would certainly be forgiven for not being in awe of the event. It's no accident that the trophy awarded to the NBA Finals MVP bears his name. After the Heat clinched their second straight championship, Russell was on hand -- and seemingly wide awake -- to hand off that trophy to LeBron James.
PHOTO GALLERY
PHOTOS: Bill Russell With LeBron James