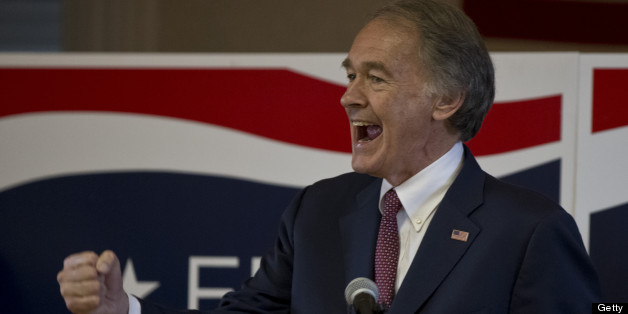 According to the folks at HuffPost Pollster, Rep. Ed Markey (D-Mass.) is currently ahead in all polls, with our polling average putting him a shade under 10 points ahead of his Republican opponent, Gabriel Gomez. But let's unleash some of Mark Blumenthal and Ariel Edwards-Levy's caveats:
1. "The wide variance in the margins is not surprising given the challenge of accurately measuring the likely electorate in an off-year special election in which turnout is likely to be low. Low turnout elections are more prone to error, something poll watchers should always bear in mind."
2. "Voter turnout is likely to be lower than the January 2010 special election that sent Republican Scott Brown to the Senate."
Indeed, the Boston Globe reports today that "[r]equests for absentee ballots in next Tuesday's special US Senate election have slipped 22 percent from the January 2010 special election," and that Massachusetts Secretary of State William Galvin is "'extremely concerned' about the level of voter participation." Galvin notes that there's a lot going on right now for Massachusetts voters:
"With many people focused on the Bruins playing in the Stanley Cup Final, the Bulger trial, and the end of the school year, the Special Election has a lot of competition for attention," Galvin said in a press release.
So it sort of makes sense that Markey's latest maneuver to avoid being the "next Martha Coakley" is to put out this ad. Watch it if you want, but I think I can summarize it thusly: "Blah blah blah ... June 25th ... blah da dee ... June 25th ... fa la la ... June 25th ... I'm Ed Markey, I approve this message and I'd be honored to have your vote on Tuesday."
Could have maybe tossed in one or two more "June 25ths," frankly.
[Would you like to follow me on Twitter? Because why not?]
BEFORE YOU GO
PHOTO GALLERY
Political Look-Alikes