This is Francesco Vezzoli's year.
The Italian artist currently has his first Italian retrospective at MAXXI in Rome, and is following it up with an ambitious solo show curated by Klaus Biesenbach at MoMA PS1 in New York and an Alma Ruiz-curated solo show at MOCA in Los Angeles this fall.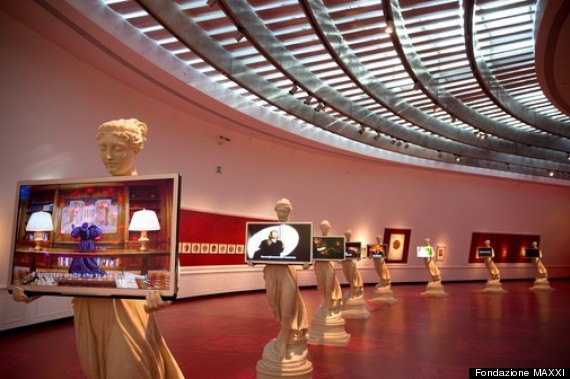 Galleria Vezzoli, Photo by Musacchio, Ianniello, Napolitano, Courtesy Fondazione MAXXI.
The trailer for the tri-partite art world takeover declares Italian provocateur "the most influential conceptual artist of our time." We can certainly award him the title of most dramatic. His work, as Anna Mattirolo states, is "a reflection on the world of contemporary art and the star system that revolves around it and which it is now difficult to avoid."
Combining an addiction to celebrity, glamour and sex with religious and historical imagery, Vezzoli's works are as transcendent as they are deliciously sinful. Who else could convincingly label a commercial for "Greed," a fake perfume ad starring Michelle Williams and Natalie Portman, as a work of art?
This year kicks off Vezzoli's epic retrospective, dubbed "The Trinity," by taking over the three art world hot spots. Is this the art world's equivalent of Kanye West's "Yeezus"?
Check out the juicy trailer above and let us know if you think Vezzoli's artful eye, pseudo-religious affinity and hefty ego rival Kanye's.
Stay tuned in the months to come for more info on Vezzoli's highly anticipated exhibitions, slated to hit the US this fall.
PHOTO GALLERY
Francesco Vezzoli