In Massachusetts, the biggest polling argument is whether Markey's margin will be large or small. Some poll results may not "tell the whole story" on guns and immigration, but ask the right questions and "polls" will. And the HuffPost/YouGov poll goes where no human has gone before. This is the HuffPost Pollster update for Friday, June 21, 2013.
MARKEY LEADS ON ALL POLLS - With the special election to fill John Kerry's Senate seat in Massachusetts just a few days away, a final round of polls continues to show Democratic Rep. Ed Markey leading Republican nominee Gabriel Gomez by comfortable though varying margins. The two most recent independent polls released on Friday show Markey leading by margins of 10 and 20 percentage points, and Gomez is trailing, albeit by smaller margins, even in his campaign's own internal automated polling. The Pollster chart, which uses all available public polls to produce a combined estimate of where the race stands, gives Markey a lead of nearly 10 percentage points (50.3 to 40.6) as of this writing. Removing the polls with partisan sponsorship gives Markey a larger, double-digit lead (53.2 to 40.4 percent). [Pollster chart with all polls, without partisan polls]
Very different polls, one leader -- The wide variance in the margins is not surprising given the challenge of accurately measuring the likely electorate in an off-year special election in which turnout is likely to be low. Low turnout elections are more prone to error, something poll watchers should always bear in mind. The small number of polls involved use a wide variety of methods, from a "dual-mode" random digit samples of landlines and cell phones called by live interviewers or the UMass Lowell/Boston Herald Poll to the automated calls to landline phones sampled from registered voter lists for the student run Emerson College poll. But the important point is this: Despite a wide variety of judgement calls by Massachusetts pollsters, 23 surveys conducted since March have all given Markey at least a nominal lead, including 6 surveys sponsored by either the Gomez campaign or Republican interest groups. [UMass Lowell, Emerson College Polling Society]
Expect a low turnout - Voter turnout is likely to be lower than the January 2010 special election that sent Republican Scott Brown to the Senate. According to the Boston Globe, Massachusetts Secretary of State William F. Galvin reports that "requests for absentee ballots in next Tuesday's special US Senate election have slipped 22 percent from the January 2010 special election." [Globe]
Would a higher turnout help Gomez? - The UMass Lowell/Boston Herald poll finds little evidence that it would: "[I]n the January 2010 MA Senate Special Election, turnout mirrored typical mid-term turnout in the Bay State, with 54% of registered voters turning out to vote...We anticipate that turnout is likely to be somewhat lower in 2013 since the race does not appear to have garnered the same level of national attention, nor does it appear to be as competitive. From our survey of registered voters, we generated two likely voter models, one in which turnout is just above 50% of registered voters, and another where it is closer to 75% of registered voters. The high turnout model predicts a 21 percentage point advantage compared to the 20 percentage point advantage in the expected turnout model." [UMass Lowell]
WALTER: 'POLLS DON'T TELL THE WHOLE STORY' - The Cook Political Report's Amy Walter examines why seemingly popular measures face barriers in Congress: "How many times have you heard about the '90 percent of Americans' who support background checks or the 'overwhelming majority' who support a path to citizenship for illegal immigrants? But, for members of Congress, national polls matter very little. What matters is how that issue plays at home...a national poll frames an issue even-handedly and with unbiased, antiseptic language. That's not the way that hot button issues are discussed by regular people or framed by the increasingly polarized social media...The issue is not about whether voters support the concept of background checks. They do. The issue is whether they trust this president on the issue. And many, especially those in deep red states don't." [Cook Political Report]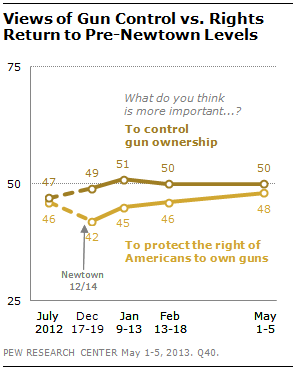 It's not 'the polls,' it's the questions - With the respect to Walter, the problem is not "polls," per se, but rather the habit of reducing all of public opinion to questions that measure reactions to "antiseptically" framed policy proposals. Yes, poll questions show overwhelming support for background checks in the abstract, but many of the same surveys also confirm Walter's other arguments. For example, an April CBS/New York Times poll found slightly more Americans trust the Republicans in Congress (44 percent) than trust Barack Obama (41 percent) to " to make the right decisions about gun laws." More broadly, a Pew Research surveys conducted this year have found Americans tipping only slightly toward measures to "control gun ownership" rather than "protect the right of Americans to own guns" (by just 50 to 48 percent in May, slightly larger ). And as we reported in May, while support for stricter gun laws is strong in urban areas and the suburbs, rural Americans overwhelmingly prefer protecting gun rights -- by a 60 to 37 percent margin in May, according to data provided to HuffPollster by the Pew Research Center. [NYTimes, Pew Research, HuffPost]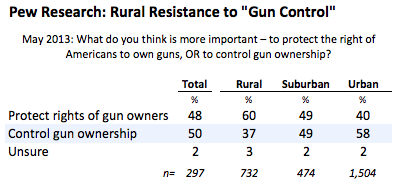 MARGIN OF ERROR: +/- AREA 51 - HuffPost's Emily Swanson: "We're not alone in the universe -- or so say half of Americans in a new HuffPost/YouGov poll. And a quarter of Americans think that alien visitors have come to Earth. According to the new survey, 50 percent of Americans think that there is some form of life on other planets, while only 17 percent think that there's not. Another 33 percent said they aren't sure. Respondents were somewhat more skeptical when asked whether there's intelligent life on other planets. Thirty-eight percent said there is, 21 percent said there's not, and the percentage saying they're not sure edged up to 42 percent." [HuffPost]
FRIDAY'S 'OUTLIERS' - Links to more news at the intersection of polling, politics and political data:
--57 percent of Americans say they would vote against a law that would allow each state to collect sales taxes on purchases its residents make online over the Internet. [Gallup]
--59 percent of U.S. registered voters say women should be included in the military draft, should it ever resume. [[Capitol Soup[(http://capitalsoup.com/wp-content/uploads/2013/06/CAPSOUPrls_WomenDraft_Results.pdf)]
-Republicans have already lost the Hispanic vote, Charlie Cook predicts. [National Journal]
-Republican pollster Luke Franz examines whether GOP support for immigration reform is falling. [Resurgent Republic]
-Stan Greenberg and James Carville argue that the 2014 race for control of the House will be competitive. [Democracy Corps (PDF)]
-A New Hampshire judge dismisses a state "push poll" case against former US Rep. Charlie Bass. [Union Leader]
-Amanda Lenhart reviews the challenges of conducting research with teenagers. [Pew Research]
-An interactive data visualization tells a story about income inequality. [Economic Policy Institute via @KevinCollins]
-An interactive web map uses Twitter data to show geographic patterns in use of iPhone vs. Android mobile devices. [Mapbox via Daring Fireball]
-Two-thirds of New Jersey residents are headed for the beach. [Rutgers]
Correction: An earlier version of this post incorrectly stated Markey's percentage of the vote with all polling included.