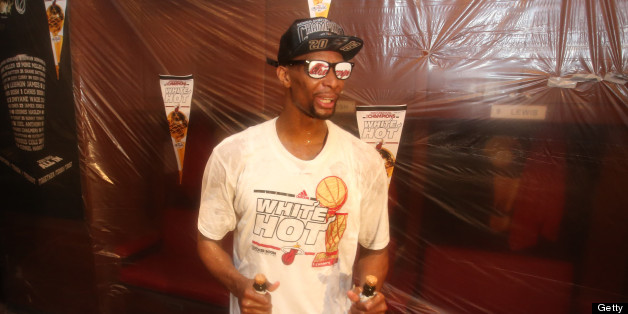 It wouldn't be a Miami Heat championship celebration without a hilarious GIF featuring Chris Bosh. The member of the Heat's "Big Three" who came up smallest in Game 7 didn't disappoint after the final buzzer sounded -- and the confetti started falling -- on the 2013 NBA Finals.
Thanks to the Heat's title-clinching win over the San Antonio Spurs, Bosh will probably count Thursday night among the best nights of his career despite the fact that he struggled so mightily. While his teammates LeBron James and Dwyane Wade combined for 60 of Miami's 98 points, Bosh didn't manage a single point while collecting just seven rebounds.
He also lost this one-on-one matchup with a falling piece of confetti.
GIF: Bosh vs. Confetti
Is this the Boshest GIF that has ever Boshed? Or what about this?
Or this?
BEFORE YOU GO
PHOTO GALLERY
PHOTOS: Heat Celebrate NBA Title