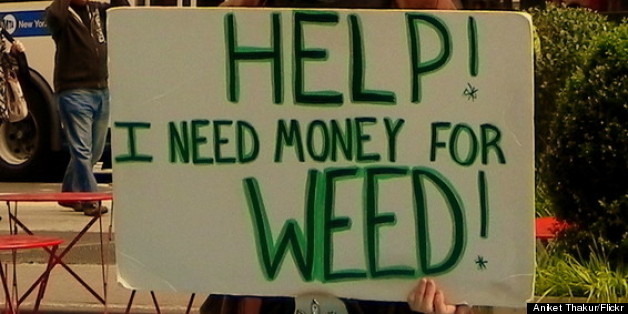 You really can't make this up.
According to reports, a Times Square panhandler holding a "I Need Money for Weed" sign, also known as the area's "weed" man, was arrested for stabbing Times Square's "beer" man, who carries a similar sign reading "I Need Beer."
During an altercation Friday night, the two Times Square regulars started arguing on 42nd Street near 7th Avenue where the attack took place, The New York Daily News reports.
The "beer" man, Wayne Semancik, told NY1 that the argument was over territory in the New York City locale.
"When you spit in my face, darling, I'm going to hit you. I don't care who you are, how big you are, I'm going to hit you," Semancik told the New York news channel. "So the man, he pulled out a pen because I was hitting him, and he started stabbing me in the face, and I have five stab wounds in my face right now."
The "weed" man in question is likely Joshua Long since he's well known for his infamous sign.
As seen in a photo posted on The Daily News' site, two other characters in the area, Alien and Predator, were questioned as bystanders by police after the debacle.
The argument is the latest in a series of unusual incidents that involve costumed characters in the tourist-heavy area. In April, a man wearing a Cookie Monster costume was arrested for allegedly shoving a 2-year-old whose mother apparently refused to tip the cartoon character.
Local authorities have not stated what charges, if any, have been filed.
BEFORE YOU GO
PHOTO GALLERY
Dumb Criminals: Mugshot Gallery