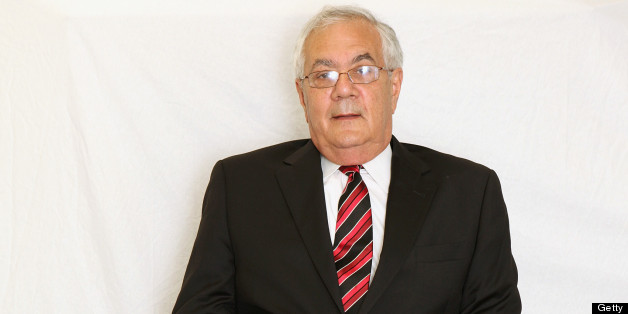 WASHINGTON -- Former Rep. Barney Frank (D-Mass.) laughed Monday when asked if he would run for Massachusetts governor in 2014, saying there is "absolutely" no chance he will attempt to succeed Gov. Deval Patrick (D).
"No. No way. Absolutely not," Frank said in an interview with The Huffington Post. "The next gubernatorial term I would be 74 years old. I was very sorry [New Jersey Sen.] Frank Lautenberg died but I wished he hadn't run. I feel fine now. But I couldn't guarantee anybody at the age of 74, in 10 months, that I was going to be totally healthy and fully vigorous for four more years. I think it is irresponsible."
"Also, I'm emotionally exhausted," Frank added. "I got married a couple years ago. I have a wonderful marriage with a man who does not want to move and be the first man of Massachusetts and I wouldn't want him to be."
In the wake of Patrick's announcement that he would not seek a third term, two Democrats -- Don Berwick, the former administrator of the Centers for Medicare and Medicaid Services, and Joseph Avellone, a prominent businessman -- have announced they're running for governor. Others who have been floated as possible Democratic candidates include Rep. Mike Capuano, former Rep. Joseph P. Kennedy II, and Robert DeLeo, the speaker of the Massachusetts House of Representatives.
Frank's name was never really part of the speculation. But he also hasn't completely removed himself from public life. He is writing a book that he said will make the case for the importance of government, and he publicly campaigned for an interim Senate appointment after a seat opened up when John Kerry became Secretary of State.
That position went to Mo Cowan. And on Monday, Frank said he wouldn't want to have any post that isn't temporary.
"A short-term Senate race with no campaigning involved was one thing," he said. "But I'm 73 years old."
BEFORE YOU GO
PHOTO GALLERY
United States Governors