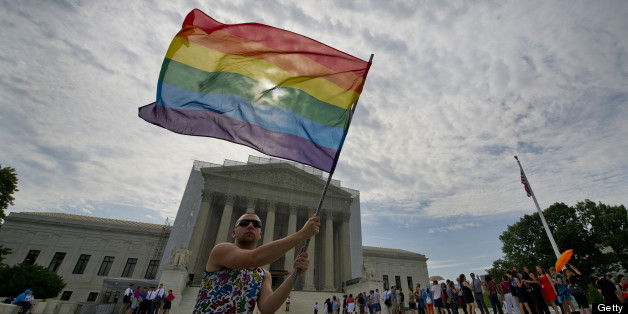 WASHINGTON -- Days ahead of the Supreme Court's expected ruling on the Defense of Marriage Act, advocates for LGBT rights gathered on Capitol Hill Friday to put a spotlight on other obstacles facing the community that don't seem to get as much attention in the news.
At a panel discussion titled "Beyond DOMA: What's Next for LGBT Equality," speakers such as former Rep. Jim Kolbe (D-Ariz.), former NFL player Wade Davis Jr. and other activists expressed mixed feelings about how much attention the LGBT community has focused on marriage equality. While all agreed marriage equality is significant, some expressed concern that it has overshadowed other key issues.
"Marriage rolls over everything," said Mara Keisling, executive director of the National Center for Transgender Equality. "It never should have become 99 percent of what we do as a movement."
But Keisling also noted that marriage equality "has been a useful tool for us to educate the public" about the issues that face the LGBT community.
Another panelist, writer and activist Darnell Moore, emphasized that members of the community still face homelessness, discrimination and violence.
"We have folk in New York right now who have been raising a lot of noise about the number of violent attacks, and even murders, of people ... in gay liberationist Greenwich Village," Moore said. "One can also make the case that some of these things have already been happening, and the news is now reporting them."
Federal data underscores Moore's claims. More than 20 percent of the 7,713 victims of hate crimes in 2011 were targeted based on their sexual orientation, per the 2011 FBI hate crimes report.
Maya Rupert, policy director of the National Center for Lesbian Rights, said she hopes to see the LGBT community pivot to issues including access to employment, housing and health care after the Supreme Court weighs in on DOMA.
Activists need "to start figuring out a way to better situate the LGBT equality movement in a broader social justice framework," Rupert said.
On that front, the Senate is currently considering legislation that would ban discrimination in the workplace based on sexual orientation or gender identity. The Employment Non-Discrimination Act recently reached 52 co-sponsors in the Senate, including Senate Majority Leader Harry Reid (D-Nev.), who has indicated he plans to bring the bill up for a vote soon.
Lawmakers would have the support of most Americans if they act on ENDA. A recent HuffPost/YouGov poll also found that the majority of Americans favor legislation that would protect gays and lesbians from workplace discrimination.
BEFORE YOU GO
PHOTO GALLERY
Proposition 8 Ruling: A Look Back At The Year In Gay Rights (PHOTOS)