A bookstore on Chicago's South Side once called "the best bookstore in America" by writer Saul Bellow is closing its doors after more than 100 years.
DNAinfo Chicago reported that O'Gara and Wilson on 57th Street between Blackstone and Harper will shutter in Chicago and, come August, move to Chesterton, Ind., roughly 50 miles west along the lake.
Doug Wilson, the owner and "apprentice-less master" told DNAinfo the Chicago shutdown was prompted by the current economic climate.
"As this downturn goes on, it's basically like a body in anorexia," Wilson said. "You start cutting off nonessential tasks, and eventually you get to the organs. Then what can you cut off that won't result in death?"
Story continues below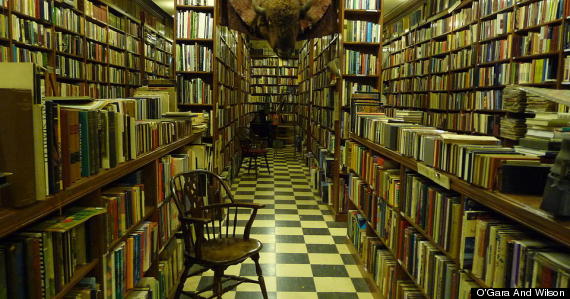 O'Gara and Wilson Books at 1448 East 57th Street
Called a "blissfully unmodern treasure trove of books that range from preowned to antiquarian" by Chicago Magazine, O'Gara and Wilson traces its lineage back to 1882, according to the Literary Tourist.
The store has long been popular among writers like Bellow and rare book collectors; during the Rolling Stones' three-day stint in Chicago, Mick Jagger reportedly popped in to stock up on music books and vintage issues of "Jet" magazine.
The venerable bookstore first announced the move last week, writing on its Facebook page:
"After decades in Hyde Park, O'Gara & Wilson is upping stakes this summer and moving to Chesterton, Indiana. It's a wonderful, historic community that has hosted an O'Gara & Wilson bookstore in the past and we're looking forward to setting up shop there again. We'll keep you updated on every stage of the move, and let you know when our Hyde Park Moving Sale will begin!"
CORRECTION: An earlier version of this story indicated O'Gara and Wilsons' closing was first reported by DNAinfo Chicago; The Hyde Park Herald first reported the story on June 20.
BEFORE YOU GO
PHOTO GALLERY
How To Save Bookstores