Cocktail connoisseurs, check this one out: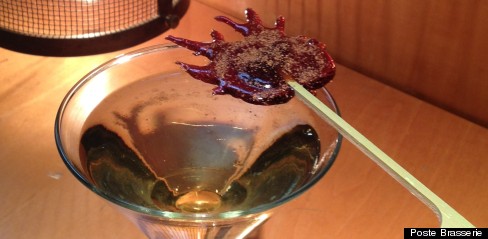 Meet Poste Brasserie's Amsterdam Coffeehouse, a potent blend of "Bol's genever, Lilet Blanc, Chateau Haut-Bergeron Sauternes, Luxardo amaretto, lemon bitters, mesquite smoked Calvados" -- topped with a lemon ash lollipop.
Yes, ash.
How does that work?
"I peel lemons and take the rinds and put them into the oven until they turn a dark brown," head bartender Jason Wiles explains. "After that I put the lemon peels in a coffee grinder and this makes the 'lemon ash.' From there I cook up a quick caramel and sprinkle the ash in, and shape them into flames."
A rep from Poste says the $17, one-of-a-kind cocktail won Wiles a spot in an international Kimpton Hotels & Restaurants competition.
On its website, Poste shares a recipe to make your own Amsterdam Coffeehouse at home:
AMSTERDAM COFFEEHOUSE

1.5 oz Bol's Genever
.5 oz Sauternes Rieussec
.5 oz Lillet BLanc
3 dashes Bitter Truth lemon bitters
Luxardo Amaretto Rinse
Flamed Lemon Peel
4 spritzes Mesquite smoked Dupont Dalvados
Lemon ash lollipop

Combine the Bol's Genever, Sauternes Rieussec, Lillet Blanc, and lemon bitters in a mixing glass with ice and stir. Strain into a 5 oz. martini glass that has been rinsed with Luxardo Amaretto. Flame a lemon peel over the drink and discard lemon peel. Apply 4 spritzes of mesquite smoked Dupont Calavados to the top of the drink.

Garnish with the lemon ash lollipop.
PHOTO GALLERY
Summer Cocktail Recipes