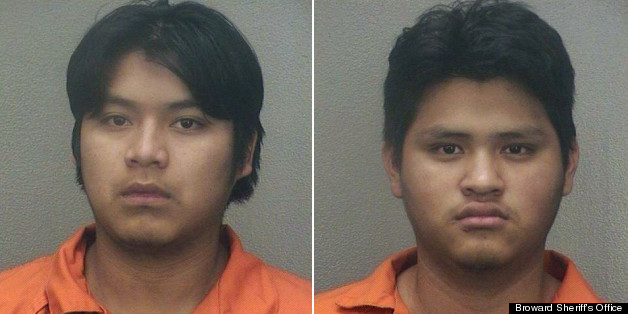 Two teenagers accused of killing a homeless man during a fight behind a Hallandale Beach auto parts store in December will try to persuade a judge to dismiss the case using Florida's Stand Your Ground law, lawyers said Monday.
In the latest attempt to use the controversial law to duck a murder charge, cousins Jose Llano-Xolo, 14, and Juan Xolo-Merlin, 17, will argue that they were acting in self-defense when they put a man in a chokehold and stabbed him with a pen.
The victim, Gregory Hyppolite, 32, fought with the boys over $40 they had promised to pay him in exchange for his introducing them to a Hollywood prostitute.
The controversial Stand Your Ground law, passed in 2005, allows a person to use deadly force if he is someplace he has a right to be and believes his life (or someone else's) is in imminent danger. The law eliminated the duty to retreat and allowed defendants to raise the self-defense claim in front of a judge before trial.
The only murder defendant in Broward to succeed in getting his case dismissed under Stand Your Ground is Nour Jarkas, a Plantation man accused of killing his estranged wife's boyfriend in January 2009. In that case, Jarkas convinced a judge that he was invited into his wife's home and that the boyfriend attacked him.
Other attempts to apply the law in Broward murder cases have not succeeded. Last September, William Medei tried to argue that he acted in self-defense when he stabbed his new wife 30 times and her 14-year-old son 51 times. On the stand, Medei portrayed himself as a martial arts expert and told the prosecutor he disarmed the mother and son before stabbing them. His trial is pending.
James Patrick Wonder, 60, raised a Stand Your Ground argument after he was accused of killing a federal agent in a road rage incident in 2008. Although the judge in that case faulted the agent for escalating the confrontation instead of abandoning it, he also questioned whether Wonder was justified in feeling that his life was being threatened. Wonder is charged with manslaughter. His trial date has not been set.
It's not clear how the Xolo cousins intend to portray the killing of Hyppolite as a matter of self-defense. According to police reports and court documents released Monday, the cousins met Hyppolite on the 800 block of North Federal Highway about 2 a.m. on Dec. 12, 2012 and agreed to give him $40 if he would introduce them to a prostitute.
Hyppolite walked with them to Hollywood, a few blocks north, and made the introduction, according to a police report. But the hooker refused the boys because they only had $5 each, so the boys returned to Hallandale with Hyppolite.
Hyppolite still demanded to be paid, and the younger cousin went home to get the money. Instead, according to the report, he met up with his cousin and Hyppolite behind the Advanced Auto Parts store at 117 North Federal Highway with a laptop, offering it as payment.
When Hyppolite refused the offer, the three argued. Then it got physical. But there's no indication in the documents that Hyppolite threatened to kill the teenagers.
According to the report, the younger cousin put Hyppolite in a chokehold while the older cousin stabbed him in the neck with a pen.
Two homeless men witnessed at least part of the fight. Both hadcell phones and used them to call 911. One witness told police he heard someone saying, "Where is the money?"
The Broward Medical Examiner's Office listed the cause of death as "manual asphyxia," meaning he was choked to death. Blunt head trauma was listed as a contributing factor.
According to one police report, the cousins fled when police arrived but were quickly apprehended. At first, they told police they acted in self defense when two men tried to steal their laptop. Under further questioning, they changed their story. The documents do not include their exact statements. The only summary of their account came from the initial report filed by a Hallandale Police detective.
Defense lawyer Jose Reyes, who represents Llano-Xolo (the younger cousin) declined to discuss the case Monday, confirming only that a Stand Your Ground motion has been filed. The older cousin's lawyer could not be reached Monday, despite two voice mail messages left at her office.
Assistant State Attorney Maria Schneider, who is prosecuting the case, also declined to discuss it.
The cousins are due in court for a routine hearing on Friday. The Stand Your Ground hearing is tentatively scheduled for late August.
raolmeda@tribune.com, 954-356-4457 or Twitter @SSCourts ___