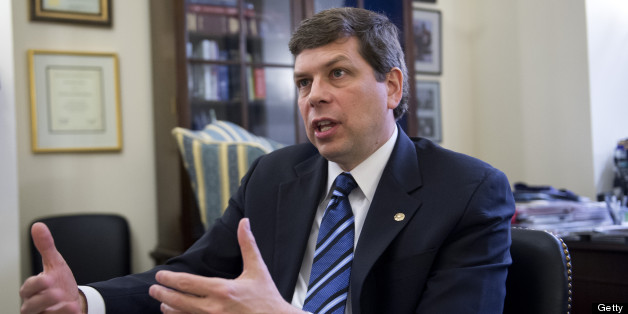 SAN JOSE, Calif. -- For Sen. Mark Begich (D-Alaska), there is no way comprehensive gun violence legislation will pass with a provision to expand background checks. In fact, those who pushed an ultimately unsuccessful background check amendment as gun control's "Holy Grail" earlier this year did so at the cost of other more viable measures, he told The Huffington Post during an interview last week at the Netroots Nation conference in San Jose, Calif.
Begich and three other Democrats voted against the background checks measure in April. Two months later, he said that the idea still didn't make sense from an "Alaska perspective."
Begich said he'd told Sen. Joe Manchin (D-W.Va.), one of the sponsors of the amendment, and others that he was primarily concerned with its requirement that all holders of federal firearms licenses (FFLs) be required to conduct background checks for every sale. Begich said many people in Alaska obtain the licences "because they get discounts when they order their ammunition and guns," not because they intend to sell weapons for a living. The concept of FFL license-holders in small Alaska towns -- some of which don't have high-speed Internet access -- being forced to conduct and then submit federal background checks wouldn't work, he said.
Begich said he found it remarkable that Senate leaders had chosen background checks as the centerpiece of broader gun control legislation when there were a number of other measures that he believed had far more bipartisan support. He noted that he had voted for amendments to tighten mental health restrictions on gun ownership, rein in straw purchases and trafficking, and enforce reporting standards for habitual drug users. As it turned out, all of those failed too.
Begich also argued that other issues in the gun control debate had been ignored altogether in putting together the Senate bill, such as the failure by the Bureau of Alcohol, Tobacco, Firearms and Explosives (ATF) to record all violations by firearms dealers and punish bad actors promptly. The Democrat said he viewed this as another reason why the Senate needed to move forward on confirming a full-time ATF director. Acting Director B. Todd Jones went through an initial round of hearings earlier this month in hopes of becoming the first full-time head of the bureau in seven years.
While Begich told HuffPost that he was optimistic about the Senate passing gun control legislation, he said background checks were simply not the issue on which to peg the entire legislative package, if for no other reason than such a bill would never pass in the House.
"So when I look at this list of stuff -- trafficking, straw purchases, mental health, habitual drug abusers, enforcement, ATF directors -- these are possible," Begich said. "But everyone got hunkered down, only covered the Manchin-Toomey bill; no one covered anything else really, little bits ... but Manchin-Toomey was like the Holy Grail and we tried to explain it won't work for us."
With about 90 percent of Americans supporting the effort at the time, many gun control advocates had hoped the amendment, crafted by Sens. Manchin and Pat Toomey (R-Pa.), would be a small yet meaningful first step to address gun violence in the wake of last year's mass school shooting in Newtown, Conn. Those who opposed Manchin-Toomey saw some backlash. Mayors Against Illegal Guns, a group launched by New York City Mayor Michael Bloomberg (I), went on the air with ads targeting senators on both sides of the aisle for their votes against expanding background checks.
Senate Majority Leader Harry Reid (D-Nev.) has suggested that he would bring another vote on the background checks measure. But Begich at least does not appear likely to change his mind.
Amanda Terkel and Ryan Grim contributed reporting.
BEFORE YOU GO
PHOTO GALLERY
Senators Who Voted NO On Background Checks