Miley Cyrus is no longer Daddy's little girl; in fact, she's got issues with him.
On Monday night, the 20-year-old singer took to Twitter to threaten her father, Billy Ray Cyrus, to "tell the truth" or else.
"@billyraycyrus since you won't reply to my texts I'm giving you an hour to tell the truth or ill tell it for you," Miley tweeted along with a photo of her next to Dylis Croman, a woman who co-starred with her father in a production of "Chicago" last year. Miley has since deleted the tweet, but it sounds like she's threatening to expose some sort of affair.
According to AnythingDiz, Miley appears to have accidentally posted a number of drafted tweets, including a couple of promotional ones about her single with Snoop Dogg, as well as a tweet that referenced her recent movie date with Liam Hemsworth, in which she wrote, "#datenight ended early and some stupid f**king paparazzi made alot of $$$".
"Wtf? My twitter was just actin all types of cray!" the "We Can't Stop" singer posted after she sent out the drafted tweets, which she proceeded to delete.
While Miley may not have intended to send out the "threat" to her father, it comes right after her parents, who filed for divorce earlier this month, were spotted looking friendly during a lunch outing on June 23.
It looks like we may have found the real reason Tish and Billy Ray decided to split.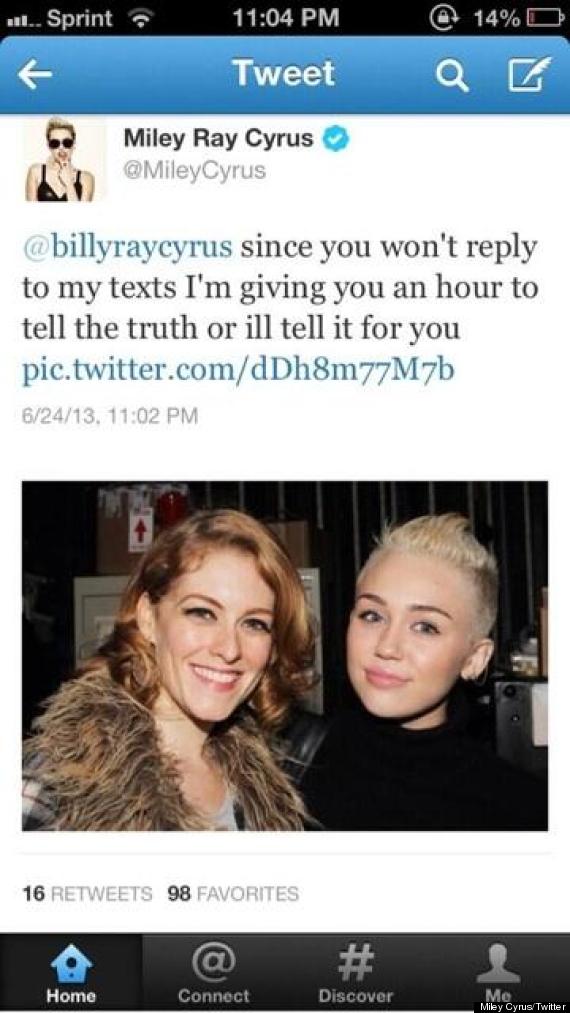 BEFORE YOU GO
PHOTO GALLERY
Celebrities With Family Problems