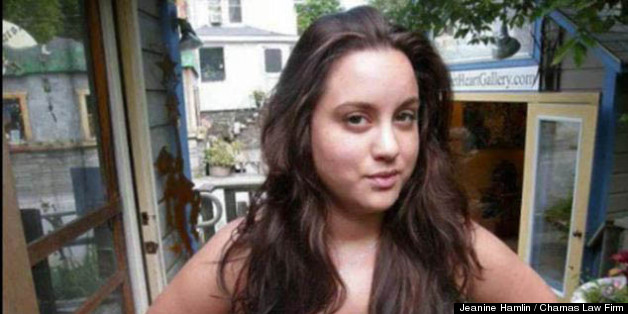 Male workers aren't supposed to enter the ladies room at the Planet Fitness gym in Bay Shore, New York.
That rule, a new lawsuit claims, may have hastened the death of a 22-year-old women who collapsed in the restroom of a Long Island branch of the New Hampshire-based fitness chain.
After Emily Hamlin collapsed in the restroom of the Bay Shore gym in early 2012, another member heard what happened and alerted a Planet Fitness worker. However, the worker was apparently flummoxed, according to court documents obtained by The Huffington Post: "He said he didn't know what to do and that he wasn't allowed to go into the ladies' bathroom," gym member Stephanie Dick said in a sworn affidavit.
Dick also said that Higgins was "scared and confused" for a full four and a half minutes before lifting the phone to call 911, according to video surveillance. A female Planet Fitness employee eventually entered the bathroom to tend to Hamlin before police arrived almost 20 minutes after she collapsed. Hamlin was pronounced dead at the scene at 6:03 a.m. after a "sudden cardiac arrest," according to the lawsuit.
Now Hamlin's parents are suing the gym, as well as the male employee Sean Higgins because they say his inaction led to their daughter's death, New York Post reports.
Planet Fitness wrote in a letter to the Hamlin's lawyer that is not liable for Emily's death, despite breaking health regulations such as failure to provide an automated external defibrillator, the lawsuit claims.
An employee at the Bay Shore Planet Fitness declined to comment to The Huffington Post except to confirm that Higgins is no longer an employee there. Planet Fitness provided the following statement to The Huffington Post:
"At Planet Fitness, the safety of our members is extremely important to us. At this time we have not been served, therefore we are unable to provide further comment."
Unexpected gym deaths can often lead to lawsuits. In a somewhat similar case, a mother sued a cheerleading gym in 2008 after her daughter sustained a fatal injury while practicing there, The Legal Examiner reports. A 2004 lawsuit claimed a Florida gym was liable for the death of a man who suffered a heart attack because it did not have an external defibrillator on hand, Sun-Sentinel reports.
BEFORE YOU GO
PHOTO GALLERY
Weird Reasons That People Get Fired