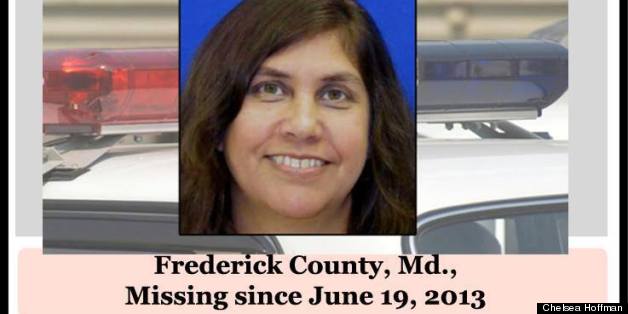 Seven-month-old Moe, a Labrador basengi mix, curled up on the couch alone Monday morning in the spot where he used to cuddle with Teresa Lentz.
"Moe misses his mommy," said the Rev. Jenny Smith, of Mount Carmel United Methodist Church, who was with the missing woman's family as they spoke to reporters at the Frederick County Sheriff's Office on Monday.
John Lentz III, Teresa's son, said it has been "really rough" since his mother was reported missing Wednesday.
At a vigil Sunday, he said it was a sad occasion, but he was happy to see so many old friends in the crowd.
The outpouring of support from family, friends and even strangers is helping the family as they continue to search for his mother and hope for her safe return, John Lentz III said.
"The prayers from everyone have been very helpful. That goes a long way," he said.
Teresa Lynn Cole Lentz, 49, left their Bartonsville Road home at about noon Wednesday to run errands, according to the Frederick County Sheriff's Office.
Teresa Lentz's husband, John, said he last spoke to her by phone at about 1:30 p.m. Wednesday, and the family became worried later in the afternoon when she did not come home and could not be reached.
Shawna Lentz went out looking about 6:30 p.m. She found her mother's blue Ford Expedition at about 9:45 p.m. parked near railroad tracks along Reel's Mill Road. Teresa Lentz's cellphone and keys were still inside the SUV, which was in running order.
To help cope with her disappearance, the family and friends have gathered to distribute posters about the missing woman to local businesses.
"It helps. It helps everybody because people want to do something to help," said Janet Kendall, Lentz's sister-in-law. "We're really hoping people will be looking and talking."
Kendall passed out posters in the Everedy Square area Monday morning. Other family members and friends have canvassed other parts of downtown Frederick and the area around Target on Urbana Pike.
The sheriff's office has asked anybody who saw Teresa Lentz or her truck last Wednesday to call and give their information. The tips are being used to create a more robust timeline of her movements that day and could help in the investigation.
Sgt. Jennifer Bailey, sheriff's office spokeswoman, said the timeline would likely be released early this week.
Investigators are interviewing and re-interviewing witnesses and examining bank and phone records.
"They're looking into everything," Bailey said. "We have numerous investigators working on the case. It is a priority for the office."
Nationwide, there are as many as 100,000 active missing persons at a given time, according to the National Missing and Unidentified Persons System.
Lentz was born and raised in Frederick, daughter Shawna said Monday. She is a 1981 graduate of Gov. Thomas Johnson High School and worked at Cole's Pawnbrokers, which is owned by family members, for 20 years.
She and John Lentz, a 1979 graduate of TJ High, were married in June 1984.
Teresa Lentz home-schooled her children and most recently worked as office manager for Mountain Top Electric, the family business.
Lentz's family shared stories of her at the sheriff's office Monday morning.
Shawna Lentz said her mother was always there when anyone needed her. Often, Teresa Lentz would bring lunch or additional supplies out to her husband and son while they were out at work sites.
"She's the mom that runs me my school bag out to work 45 minutes away because I forgot it," Shawna Lentz said. "Even when she has a zillion other things to do."
The Frederick County Sheriff's Office is requesting that all tips be called in to Cpl. David DeWees at 301-600-3677.
Follow Danielle E. Gaines on Twitter: @danielleegaines. ___