We may have met the biggest "Big Bang Theory" fan of all time ... or at least, his leg.
Elector Ink Tattoo Studio posted an image of a tattoo (below) on their Facebook page of Jim Parsons as Sheldon Cooper from CBS's "The Big Bang Theory" with his trademark saying "Bazinga!" The "Big Bang Theory" tattoo is on artist Craig Turner's leg.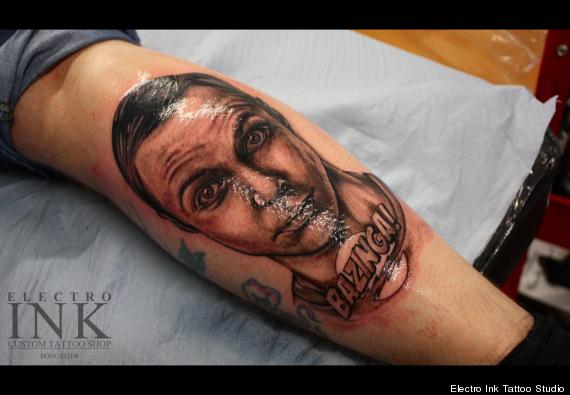 "The Big Bang Theory" has spawned some pretty interesting fandom. The hit comedy also inspired the name of a Brazilian orchid bee -- Euglossa bazinga. The Columbus Zoo also recently named a monkey Sheldon Cooper after "The Big Bang Theory" character.
"The Big Bang Theory" is one of TV's most popular shows with its season finale in May bringing in 15.5 million viewers and a 4.8 rating.
Click over to Electro Ink Tattoo Studio's Facebook to see more tattoos.
PHOTO GALLERY
'The Big Bang Theory'