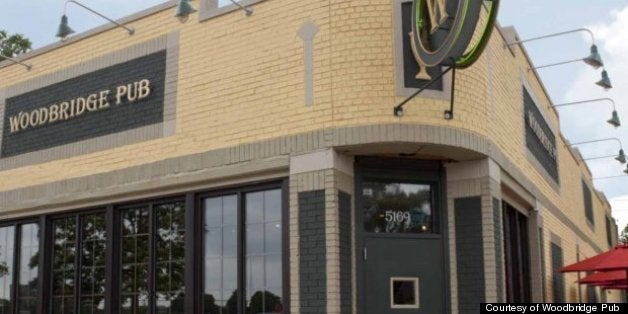 This article originally appeared in the June 25, 2013 edition of Model D. Read the intro post on how "third spaces" help communities thrive, or click here to read about more "third space" businesses changing their cities throughout the Great Lakes State.

Jim Geary set out to change a neighborhood in Detroit. He began with homes in the Woodbridge neighborhood, but things really started to swell when he finished rehabbing a commercial building and opened the Woodbridge Pub, the new center for community in the neighborhood.
Jim Geary not only came to Detroit looking for opportunity, he created it. In fact, he is still creating opportunities in Detroit's Woodbridge neighborhood.
Geary is the founder of Woodbridge Pub, the neighborhood's first bar/restaurant in decades. He is also a developer and historic preservationist, restoring a number of houses in Detroit's greater downtown area and making room for more small businesses next to Wayne State University.
"If one business brings a neighborhood a certain level of safety and financial stability, then more businesses are better," Geary says. "In this area, the foot traffic is great."
Geary is a bit of an immigrant to Woodbridge. He lived in Ann Arbor at the turn of the century, working a number of odd jobs such as a commercial painter. The then newly minted 20-something came to Detroit looking for an opportunity to stake a claim in an urban neighborhood. He found it while cruising through the Motor City.
"I got in my car and drove around and I stumbled upon Woodbridge," Geary says. "I came across Commonwealth Street and thought, 'Oh my God. This is awesome.'"
He moved to the neighborhood shortly after that in 2000. He started slowly restoring some of the historic homes, not only for his own use, but to support himself. A few of the renovations he sold to family members. He participated in about two dozen house renovation/restoration projects.
Houses weren't enough for Geary. A few years after moving, he began looking for a building to open a bar. He compiled a list of 10 vacant commercial structures in the neighborhood and began writing letters to the owners. That strategy allowed him to buy a boarded-up building at 5169 Trumbull in 2006.
"Persistence is one of my best qualities," Geary says. "Persistence and patience."
The former liquor store at the corner of Trumbull and Merrick streets had been vacant for more than 20 years and was in serious disrepair. The one-story brick structure was built in 1926. The nearly 2,000-square-foot building originally housed a general store in the front and a pet store in the rear.
It took Geary two years to transform the forlorn building into the community space he envisioned. He salvaged panel doors from a house in Saline to create the wood wall behind the bar. The men's room is an old commercial ice-chest/walk-in fridge. The lights hanging over the bar shined down on pool tables before Geary saved them. He built the bar from wood paneling salvaged from a church about to be razed, creating a key piece of the business that would have cost him tens of thousands of dollars to buy from someone else.
"I wanted it to feel a lot like the houses in the neighborhood, which are rich in detail and have lots of woodwork," Geary says. "You can feel the history. Things like this just aren't built anymore."
That craftsmanship resonated. Woodbridge Pub was an immediate hit when it opened in 2008 and became one of the neighborhood's hubs of activity. He was far from finished. Geary and a friend who bought the little green house on the other side of Merrick adopted the urban prairie across the street from the pub. They cleared the blight from the three city-owned lots and built the Woodbridge Community Garden, a community space with raised gardening beds and public art.
"It was a junk field," Geary says. "People would just dump there junk there. There were weeds as tall as me. There was trash and old tires and a thin path through the middle that people would walk on to the liquor store."
Today the corners of Trumbull and Merrick are beautiful spaces where people congregate and literally build up the community with homegrown vegetables and pints of Michigan-brewed beer.
Detroit sold Geary those three lots late last year through the city Planning & Development Dept.'s Side Lot Program. Geary plans to keep the garden and is leading the effort to build bigger raised beds there this summer.
"Really, the community dictated the garden be built, more than one person saying 'I want to build a garden,'" Geary says.
One of those community members is Caroline O'Neill. The 26-year-old moved to Woodbridge a year and a half ago from the Kales Building downtown. The neighborhood is closer to her classes at Wayne State University where she is a social work major and is an easy stroll to her favorite places. "How cool is it to walk to the DIA?" O'Neill says.
The former member of AmeriCorps is now one of the organizers of building out the Woodbridge Community Garden. She enjoys the physical labor of working in an urban garden and helping create a space that "is what the community wants." She adds, "it's hugely important that this stays," and that she met most of the people she knows in the neighborhood at Woodbridge Pub.
"Without the pub we have no central gathering place," O'Neill says.
Geary isn't done enhancing that gathering place. Last year he purchased the vacant commercial building adjacent to Woodbridge Pub and a boarded up warehouse halfway down the block on Trumbull. He is also working on closing on the vacant/boarded-up/blighted commercial strip a block away at Trumbull and Putnam.
He plans to renovate all of them into spaces for new small businesses to stake a claim in the neighborhood. He also expects the new businesses will attract more foot traffic to the area, which will put more eyes on the street and make the surrounding area safer and more prosperous.
"This will be a beautiful outdoor space that everybody can use," Geary says.
Read more stories about community building and positive growth in Detroit at Model D.
BEFORE YOU GO