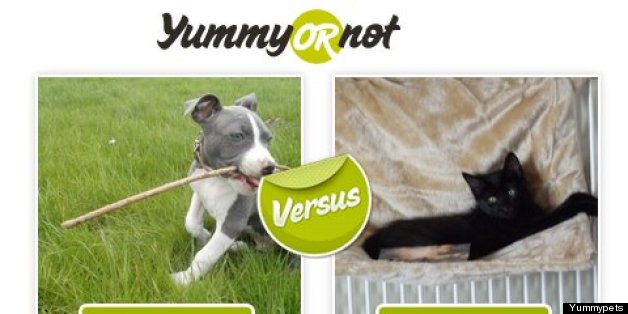 You know your pet is cute, but you want to prove it. Sometimes showing your friends pictures of Mr. Boots just doesn't cut it. You need everyone to know how cute he is.
With the new pet social networking site Yummypets, you can not only make a profile for Mr. Boots, you can submit a photo of him to the site's version of "Hot or Not" (called "Yummy or Not") pitting him against other cute animals, and letting the public decide.
The French site has 150,000 users in France and 20,000 in the UK. While you can access the site in the U.S., it has not yet officially launched on this side of the Atlantic, Fox News reports.
While the idea of a Facebook for pets may sound silly, the demand clearly exists. People love making real Facebook profiles for their pets, so it makes sense that people would be drawn to a social network made specifically for four-legged friends. Last year, CNN reported that many of Facebook's 83 million fake accounts were profiles of pets set up by their owners.
On Yummypets, pet lovers have more options than on Facebook. Along with the "Yummy or Not" feature, users can create memorial pages for deceased animals, celebrate pet birthdays, join groups, ask questions and share photos and videos. The page is home to not just dogs and cats but rabbits, donkeys and chameleons. In a recent study, it was revealed that almost half of U.S. pet owners feel that their pets are better for their social lives than a social networking account. Combine the two, and it could be perfect.
BEFORE YOU GO
PHOTO GALLERY
11 Terrible Ideas For Social Network Mashups