Food Informants is a week-in-the-life series profiling fascinating people in the food world. We hope it will give you a first-hand look at the many different corners of the food industry. Know someone who would make a great Food Informant? Tell us why.
Izabela A. Wojcik is the Director of House Programming for the James Beard Foundation, a nonprofit organization founded in 1986 that is dedicated to celebrating, nurturing and preserving America's diverse culinary heritage and future. Wojcik oversees more than 250 special events held at the historic James Beard House, which features chefs, pastry chefs and winemakers from across the United States and beyond.
In her role as head of House programming, Wojcik has a rolodex of culinary and beverage professionals from around the world. Part of her responsibility is engaging in constant dialogue with influencers in the epicurean industry, thereby, staying on top of the latest gastronomic trends.
Wojcik frequently appears on panels concerning food and cooking. She holds a B.S. degree from the Cornell University School of Hotel Administration in Ithaca, New York. Her culinary experience also includes positions at Marriott and Omni Hotels, Tribeca Grill and Osteria del Circo restaurants. A self-taught chef, she is proud to have been selected to cook at the four-star Chanterelle, as well as First in New York. Wojcik resides in Brooklyn with her journalist husband and son.
Read more about how Izabela balances a full calendar of chefs cooking at the Beard House.
Monday June 10, 2013
7:45am: I'm cooking up a storm this morning. Since I will be staying for dinner at the Beard House tonight, I need to have dinner for my 8-year-old son, Luca, my mom who's babysitting, and my night-shift husband to take to work, so he can eat well and be a part of the family. I'm roasting chicken parts with herbs and garlic, mashing Yukon gold potatoes, stewing tomatoes and braising mustard greens, all before 8am!
And I made a Vietnamese style marinade for tomorrow's fish dinner. Planning ahead.
10am: Surprise dentist appointment throws my morning schedule. Somehow calendar at work and iPhone didn't communicate this one. Feel guilty for not flossing more.
11:30am: Arrive at Beard House and check in with the visiting chef team in our kitchen. My favorite way to start the day. Today's team is chef Allen Routt and partner Jessica Bagley of The Painted Lady in Newberg, Ore. It's an elegant restaurant, set in a beautifully restored Victorian home in the heart of the Willamette Valley. Their menus are inspired by the local Oregon bounty, presented with modern flourishes. Their last and only dinner was three years ago, almost to the date. Nice to see them again and this time I'll be staying for dinner. The aroma of bacon and butter hits me as soon as I enter. You know it's going to be a great day!
12:00pm: Catch up with my assistant Laura and set a plan for the day. Start to edit the next issue of Previews, which is an electronic bulletin that lists the next three months of James Beard Foundation events, both at the Beard House and around the country. This goes to our paid members nationwide and triggers reservations. It will be sent this Wednesday, so we have to finalize a number of details.
12:37: I keep lunch modest, at my desk. Small lentil soup and pumpernickel bagel from Murray's Bagels, around the corner from the Beard House. Speaking of around the corner, Umami Burger is coming. Our office is excited. Or maybe it's just me!
1:30pm: Take a few calls from chefs and publicists about cooking at the Beard House. Spend a few hours researching their backgrounds and restaurants. I'm scheduling the late winter and 2014 calendar.
2:30pm: Review the galleys of the upcoming Gramercy Tavern Cookbook. Gramercy Tavern itself will be celebrating two decades as a pioneer of market driven, intelligent American cuisine and service. Just for kicks I review our James Beard Award files to see what kind of accolades its garnered and am floored by the legacy: Beard Awards in the outstanding restaurant, pastry chef, service and wine service categories. Not to mention chef Michael Anthony won the Best Chef New York Award last year, in the same category that Tom Colicchio won the decade prior. Even in this rough book form the photos and the stories are beautiful and inspiring. I'm trying to host an anniversary and book party at the Beard House with this book and really celebrate the impact it has had on chefs and restaurants and our industry. Crossing my fingers. I'll be seeing Michael Anthony on Wednesday for an event so will mention it.
3:30pm: Handwrite a few thank you notes to chefs who have cooked at the Beard House in the past couple of weeks.
3:45pm: Afternoon coffee break. Drink the Lavazza that is brewed in House. Does the job of a pick me up, but not my Grumpy Monkey!
4pm: Read our JBF blog and catch up on NY Times, NY Magazine, Eater and Chicago Tribune.
4:30pm: Practice my speech for tonight's Beard House dinner. As the host of for the evening, my role includes acknowledging the guests' and chefs' support of the James Beard Foundation, introducing the chef team and reviewing career highlights, and encouraging questions from the audience. Tonight we will be joined by the vintners, Cliff and Allison Anderson of Anderson Family Vineyard, also in Newberg, Ore, who produce beautiful, organic Burgundian-style wines in such small quantities that it feels very special to drink them.
6:15pm: Sit in on the staff meeting with guest chefs and our service staff. Gives me a more in-depth understanding of the menu and will make it easier to drum up questions for the chef during the Q & A at the end of the meal.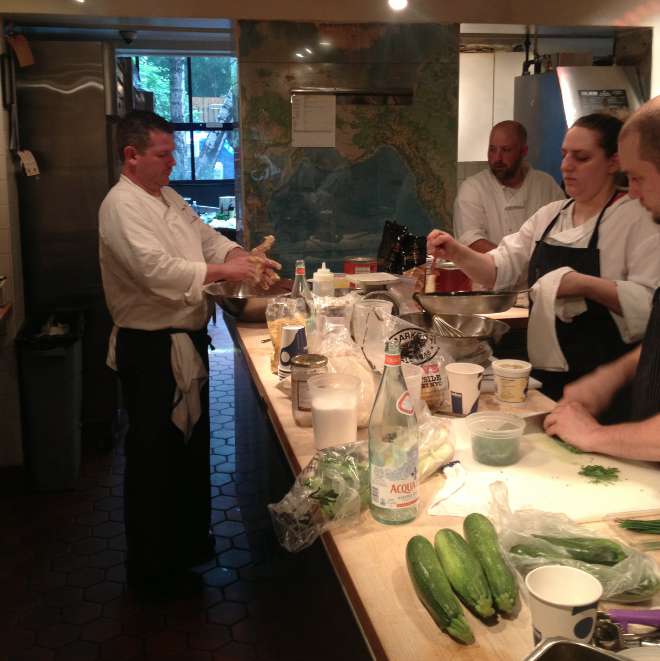 7pm: Dinner at the Beard House commences. Guests begin arriving and streaming through the kitchen to meet Allen and Jessica and the team. Some guests are members of the James Beard Foundation, but it's nice to see so many first time-diners who are enthusiastic about food and simply made a reservation. We're open to the public but it's hard to shake the private club reputation. I just love the din of the greenhouse gallery as I see people eating, drinking, and socializing. I sample the hors d'oeuvres, including a foie gras mousse-filled gougère. The reception beverage is unique scotch ale from Long Brewing, in Newberg Ore., that has been aged in one of the Anderson's pinot noir barrels. It's got a complex flavor that really complements the food. I overhear a number of comments from self-proclaimed, beer haters who are surprised and loving it.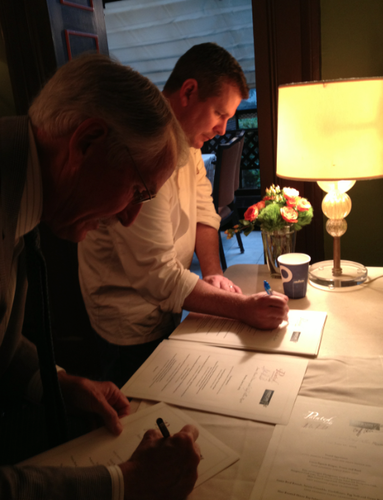 Dinner is outstanding. Perfectly executed, delicious, and impressive considering the chef is cooking for 80 and our waitstaff has to hand-carry the plates to the second floor. The six-course menu includes a standout Dungeness crab course that celebrates the west coast in three textures: crab cake, crab and miso custard, and crab and fresh hearts of palm salad. The others are an ethereal curried squash bisque, a translucent pheasant ravioli, slow roasted salmon with white asparagus, pistachio-crusted venison loin with dates and a chocolate decadence for dessert. The wines are paired so perfectly to each course, there's not one element I could suggest to make it better, that I will mentally savor this dinner for a long time.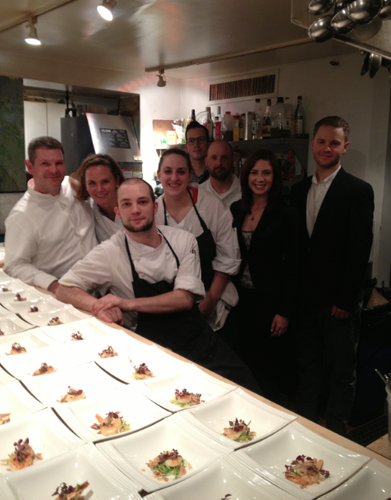 Tuesday, June 11
10:30am: Spend a little time in the kitchen with today's featured chef, Massimo Patano of Massimo's in Palm Harbour, FL. He has brought just one of his cooks with him -– typically chefs bring at least two or more -- and will rely on our culinary student volunteers to help him execute an ambitious menu that marries classic Italian flavors in modern and eclectic dishes, such as his duck cake with a savory pistachio stuffing, accompanied by an apricot-champagne sauce and topped with seared foie gras. He is all-business and has a very tight schedule but still manages a big smile for me.
1:10pm: Lunch at my desk. Made at home, toasted Murray's sesame bagel with salted butter, black forest ham, gouda cheese and whole grain mustard. We stock mineral water at the Beard House so I drown myself in Pellegrino every day.
2:30pm: Afternoon filled with typical work. Finalizing event files for September and October events, getting them ready to share with our publications department. Contacting chefs and publicists for missing information, such as menus and photos.
3-4:30pm: Weekly director's meeting with our president and staff. Chance to catch up on various projects and initiatives and touch base with all points. In addition to the Beard House staff (president, CFO/COO, accounting, reservations, membership house operations and programming), we have a second office, home to our publications team, executive vice president, development, awards, special events and educational initiatives, so it's good to catch up.
Answer emails and then rush home to pick up Luca from afterschool and get him to swim team practice.
10pm: Still answering work emails. I get a couple of hundred emails daily -- some are from publicists and chefs' teams sending event-related information. Some are inquiries about cooking at the Beard House and various other events. Some are responses to my own inquiries. I'm drinking a cocktail. My husband Howie and I love making drinks at home, and have an impressive collection of booze, bitters and glasses! I'm trying a recipe called Newport Snap from the just received 2013 Food and Wine Cocktail book. It's basically a gin sour with a red wine float on top. It's a gorgeous summery drink and so delicious, it's crazy. From the folks at The Gin Joint in Charleston.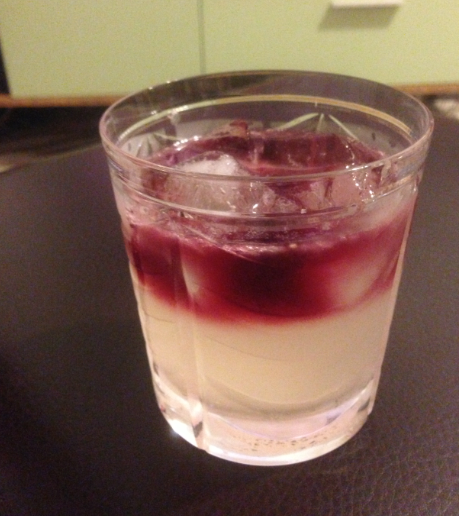 Wednesday, June 12
8:45am: Weekly Wednesday breakfast club, which has been meeting on Wednesdays 8:30 – 9:30am, since April 2004! It started as a way for me and two former roommates and college friends to stay in touch and see one another regularly. Club members are James Beard Foundation's EVP Mitchell Davis, our friend Matt Barolo, who works for the Keith Haring Foundation and me. Occasionally we'll have a visitor at breakfast as was the case this morning, when Amy Mills joined us. She's the undisputed barbecue heiress, daughter of legend Mike Mills, penned the awesomely titled Peace, Love and Barbecue book and owns the 17th Street Bar & Grill joints. We went to Andrew Carmellini's newest place, Lafayette, where you CAN get in for breakfast! The coffee was excellent and the éclairs, amazing. (Yes éclairs for breakfast!) The scrambled egg and goat cheese vol-au-vent…not bad either.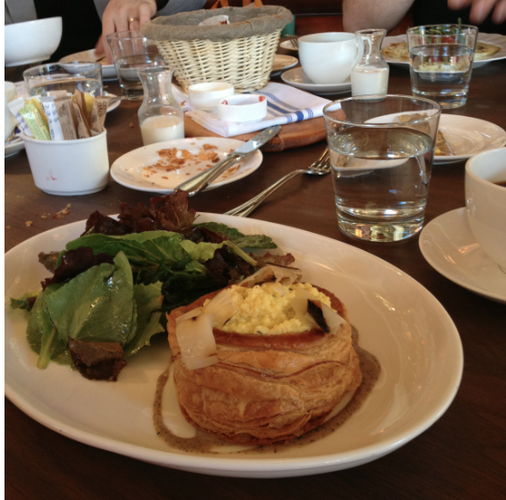 12 – 1pm: Attended monthly Beard on Books lecture series, held on the second floor of the Beard House. Food personalities reading from their books, telling food stories. Alex Guarnaschelli was presenting her book, Old-School Comfort Food: The Way I Learned to Cook. But truthfully, in the way we've come to love her on TV as a judge on Chopped and as an Iron Chef competitor, she's a brilliant, humorous and quirky speaker. It was a great conversation.

3pm: Watching the Beard House get transformed into a reception space to kick-off our special James Beard Foundation's Taste America tour, coming to 10 cities later this fall. The kick-off reception will be hosted by our president Susan Ungaro and our trustee emeritus Jacques Pepin. We used Taste America's media partner, Every Day with Rachel Ray, latest burger themed issue -- the 2013 Burger Battle Royale -- as inspiration of the party. We invited three James Beard winners from the story to prepare their winning burgers: Tory Miller from l'etoile and graze in Madison,WI, Michael Anthony of Gramercy Tavern in NYC and Maricel Presilla of Cucharamama and Zafra, in Hoboken, NJ.
4pm: Quick site visit with Stuart Brioza and Nicole Krasinski of State Bird Provisions in San Francisco, winners of 2013 Best New Restaurant James Beard Award among many other accolades. They've committed to cooking at the Beard House on November 2, but want to create a fun, walk around experience more in keeping with their vibe and certainly more challenging for us. They're in town and this gives us a chance to meet in person. It's amazing how many out-of-town chefs cook at the Beard House for the first time, without ever having seen the kitchen before. I feel much better when they leave.
6pm: Taste America media reception begins. Aromas start to waft in the garden and throughout the House. My strategy is to show restraint and enjoy the guests and wonderful conversations. Instead, I launch myself immediately upon Tory Miller's Graze Burger which has bacon ground into the mix and topped with winey caramelized onions, on a homemade made bun. Yum. That leads me to Michael Anthony (of Gramercy Tavern) and his "Off-Menu" Burger with aged cheddar, pickled onions, grainy mustard and side of blue potato chips. Then I might as well sample the last burger, Maricel Presilla's Sur Burger, set on a Portuguese bun and studded with chorizo. We also showcased Gulf Oysters from Gulf Oyster Industry Council, which are as sweet and succulent as could be. And Ronybrook's fabulous ice cream sandwiches are served for dessert, after the speeches. Talked to Michael Anthony about his upcoming book. And plotted with Tory Miller about his return to the Beard House in December to celebrate his Graze concept and the end of prohibition with a cocktail-themed night. Got ribbed for not (yet) having invited Carla Hall, one of the Taste America all-stars to cook at the Beard House.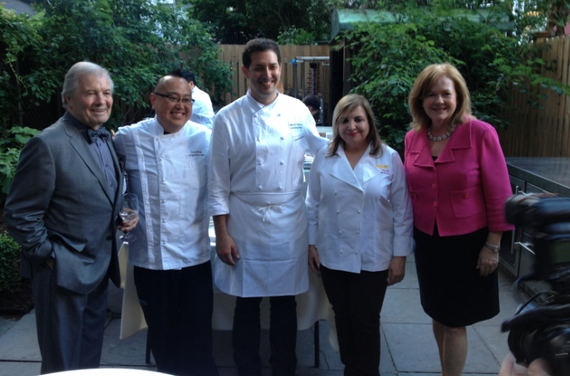 Jacques Pepin, the chefs, and JBF president Susan Ungaro
Thursday, June 13
10am: Review photos from last night's Taste America kick-off. Photographer Ken Goodman not only takes beautiful photos of events, and collaborates with many chefs, but is also part of a competition new England barbecue team, and worked on two books with some of their members: Wicked Good Barbecue, and the more recent, Wicked Good Burgers. I'm hosting the Wicked Good Burger and Beer Bash in August and it's going to be an amazing food feast. I peek into the book periodically and make myself hungry.
12pm: The guest chef tonight is Pecko Zantilaveevan of the venerable Four Seasons restaurant in New York. It's five decades old and eternally stylish. We're celebrating the restaurant's past and present with a menu that includes signatures such as seafood risotto with nepitella and the deceptively simply worded fancy cake. James Beard consulted on the restaurant for its original owner, Joe Baum, so it holds a special place in our heart. Through the years we've hosted our annual gala and auction there, as well as celebrated James Beard birthday anniversaries. And in that honor, we have a framed 1959 winter menu that hangs in our dining room. I love showing off the menu to visiting chefs and guests, a reflection of what we were eating (and how little it cost!) at the time. New York chefs don't usually arrive until later in the day, but Pecko and his team were in the House early.
1:15pm: A rare lunch out, at Tertulia in the neighborhood with our CFO/COO Marilyn Platzer. Long overdue catch up and a small way to say thank you to chef/owner Seamus Mullen. He graced the Beard House with a book reading from his Hero Food cookbook the week before. It was an illuminating talk about his chronic illness and his path to healing foods. And the recipes sound irresistible. I can't wait to cook from it. And you have to love a job where you say thank you by eating lunch! We cleaned our plates of octopus croquettes, spring pea and radish salad, pressed Serrano ham, cheese and quince sandwiches, and of course, the hot churros with chocolate for dessert.
3:30pm: Spend the afternoon on the phone and email. The task of scheduling 200+ events each year starts off as a conversation about the costs, responsibilities, themes, strategies and stories to be told in food. That is then carried out by many exchanges. I have hundreds of conversations like this, with a goal of a dinner in 6-12 months, and maybe 50 percent actually end up as scheduled dinners. Most of my work deals with fostering relationships, learning about chefs and their communities and thinking about the future. But, once a date is selected, then the chef and his/her team needs to compile information I can use to create collateral with our editorial staff, which includes complete tasting menus and matching wines and beverages. The calendar is then subject to regular, demanding publication deadlines, with long lead times, that conflict with the current cooking trends of hyper local/hyper seasonal and highly market driven. I'm always hounding chefs for menus to be published months before they actually arrive.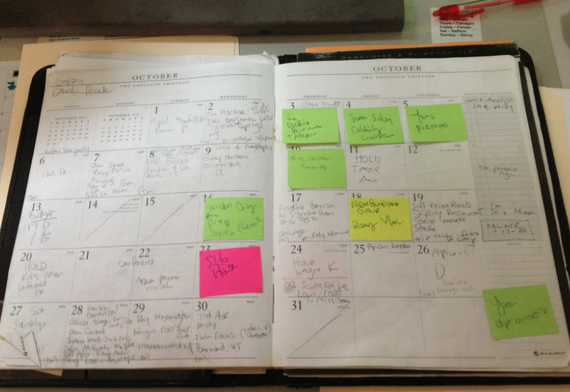 Friday, June 14
10am: No event at the Beard House today, by design. We're getting ready to host our biennial cookbook sale on Saturday, and have tons of boxes arriving today. We have remnant books collected from the last two years. Donations and drop offs, some culled through the James Beard book award submission process. Some have been donated by the Fales Library at New York University. The day will be used to sort, price and organize close to a thousand books, largely by director of house operations Victoria Jordan Rodriguez and her team of staff and volunteers. Phew.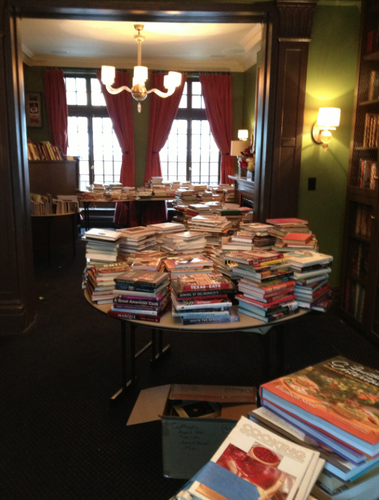 12pm: I review the Unofficial Mad Men Cookbook by Judy Gelman and Peter Zheutlin. Found it online. I'm planning the Mad About Mad Men cocktail party at the Beard House for Friday July 12th. The idea is to feature the classic restaurants, dishes and cocktails that have appeared on the show or are inspired by that era. I scheduled the party to coincide with the end of the current season. I've confirmed thus far Keens Steakhouse, 21 Club, Delmonico's and the Oyster Bar at Grand Central, but as the date is fast approaching, I really need to work out the dishes and the drinks.
2pm: I curate the Greenhouse Art Gallery in the Beard House, which features food-themed motifs, six times a year. The July/August show will focus on the works of John Greeley- large, colorful paintings inspired by his skateboarding and graffiti culture. He's not only an artist but also the chef of the 21 Club. I love that he'll be cooking at the Mad Men party, in the same space where we show his work. We have a check-in phone call about when he can get his work to the House, when to hang, and when to schedule his private artist reception.
3pm: Spend the rest of the afternoon returning calls and emails. Wide ranging exchanges about the Parrot Club in Turks and Caicos, Bistro du midi in Boston and a big French truffle dinner in the winter.
4pm: Finalize a preorder of cronuts from Dominique Ansel bakery in Soho as a surprise to my colleagues. There's been such a media frenzy surrounding this croissant-donut hybrid, not to mention reports of crack-of-dawn waiting lines and an emerging black market on Craigslist, I finally succumb to the noise. I'm placed on a wait list and schedule a time for late July. By the time the date arrives it will be lovely surprise.
See more Food Informants below:
PHOTO GALLERY
Food Informants