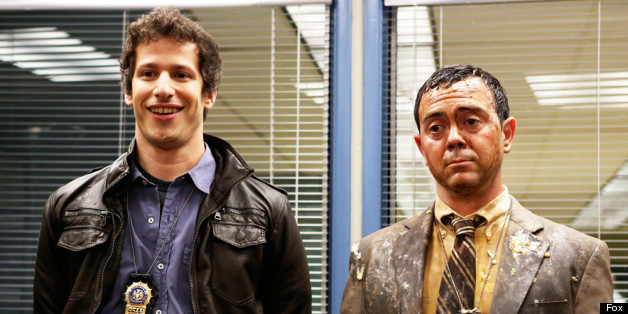 Fox has set its fall 2013 premiere dates and fans will have two whole months of series and season premieres to look forward to with "The X Factor" Season 3 kicking off the 2013-2014 season in September to new sci-fi series "Almost Human" ending the fall premiere season in November.
Though "Bones" will start its ninth season on Mondays in September alongside a new twist on the Ichabod Crane story, "Sleepy Hollow," the Fox mainstay will move to Friday nights beginning Nov. 8, where it will be accompanied by "Raising Hope" and new comedy "Enlisted."

The network debuts its new Tuesday night comedy block on Sept. 17 with the series premieres of Seth McFarland's "Dads" at 8 p.m. ET and the Andy Samberg-fronted "Brooklyn Nine-Nine" at 8:30 p.m. ET, followed by "New Girl's" Season 3 debut at 9 p.m. ET and "The Mindy Project's" sophomore season premiere at 9:30 pm. ET.
So clear your calendars (and DVRs) and check out the full list of Fox fall 2013 premiere dates below. For tips on what's worth your time and what's not, check out HuffPost TV's first impressions of Fox's new series (which are indicated with a * below).

Wednesday, Sept. 11
"The X Factor" (Part 1), 8:00 p.m. - 9:00 p.m. ET

Thursday, Sept. 12
"The X Factor" (Part 2), 8:00 p.m. - 10:00 p.m. ET
Monday, Sept. 16
"Bones," 8:00 p.m. - 9:00 p.m. ET
*"Sleepy Hollow," 9:00 p.m. - 10:00 p.m. ET
Tuesday, Sept. 17
*"Dads," 8:00 p.m. - 8:00 p.m. ET - 8:30 p.m. ET
*"Brooklyn Nine-Nine," 8:30 p.m. ET - 9:00 p.m. ET
"New Girl," 9:00 p.m. - 9:00 p.m. ET - 9:30 p.m. ET
"The Mindy Project," 9:30 p.m. - 10:00 p.m. ET
Thursday, Sept. 19
"Glee," 9:00 p.m. - 10:00 p.m. ET
Friday, Sept. 27
*"Masterchef Junior," 8:00 p.m. - 9:00 p.m. ET

Sunday, Sept. 29
"The Simpsons," 8:00 p.m. - 8:30 p.m. ET
"Bob's Burgers," 8:30 p.m. ET - 9:00 p.m. ET
"Family Guy," 9:00 p.m. - 9:30 p.m. ET
"American Dad," 9:30 p.m. - 10:00 p.m. ET

Monday, Nov. 4
*"Almost Human," 8:00 p.m. ET - 9:00 p.m. ET

Friday, Nov. 8
"Raising Hope," 9:00 p.m. ET - 9:30 p.m. ET
*"Enlisted," 9:30 p.m. ET - 10:00 p.m. ET
WANT MORE? SEE PREMIERE DATES FOR
PHOTO GALLERY
Fox New Shows 2013-2014