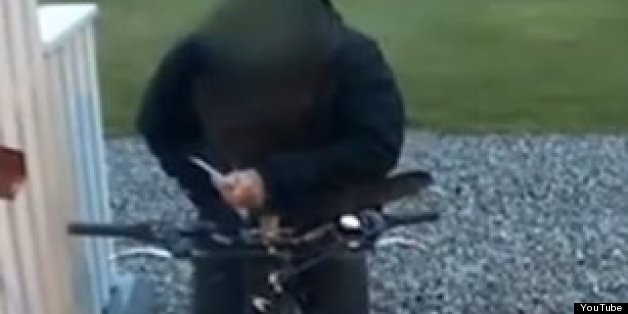 This suspect takes joy riding to a whole new level.
Police in Ostersund, Sweden, are searching for a vandal who loves bikes so much that he allegedly feels the need to puncture their tires and pleasure himself astride strangers' rides.
According to cycling website Road.cc, Ostersund resident Per Edstrom got upset that someone had repeatedly slashed his bicycle tires, so he set up a security camera to find out just what the heck was going on. He got way more than he bargained for.
This video of one incident was posted to YouTube on June 24 and had received more than 32,000 views at the time of writing. The footage shows a man in a hooded sweatshirt mounting Edstrom's ride and engaging in some suspicious arm motion.
WARNING: Some readers might find this video offensive.
(Story continues below.)
Surprised? Don't be. Apparently masturbating on bikes is a thing in Europe.
What is surprising is Edstrom's reaction to the suspect's sexual shenanigans. Rather than feel outraged that his vélo was violated, the victim said that he'd just like to keep his tires from getting slashed in the future.
"I am not scared of him, just irritated over all the punctures I have had to fix," Edstrom told The Local, an English-language Swedish news website. "This man is probably completely harmless, bicycles are just his thing."
Ostersund police think there may be a connection between the suspect who can't seem to get enough of Edstrom's bike, and a man who was arrested for slashing tires and ejaculating on bike seats in 2007.
Ostersund is a small city in the north of Sweden that had a population of 44,000 in 2010, according to data from Statistics Sweden. Although one can never be sure, it's likely that the wanted bike masturbator is close at hand.
BEFORE YOU GO