Shortly after Aaron Hernandez was charged with murder in connection with the fatal shooting of Odin Lloyd, TMZ shared an image on Twitter of the former New England Patriots tight end with a handgun that didn't do him any favors in the court of public opinion.
Citing an unnamed source, TMZ Sports reported that the photo seen below was taken in 2009 in Gainesville while Hernandez was a student at the University of Florida. The Patriots drafted Hernandez out of Florida in the fourth round of the 2010 NFL Draft.
Bristol County Assistant District Attorney William McCauley referenced the photo obtained by TMZ during a bail review hearing for Hernandez on Thursday. Bail was denied.
"There was a photo that was shown on the Internet of the defendant holding a Glock .45," McCauley said during a hearing in Fall River, Mass. court, via ProFootballTalk. "That Glock — there's good reason to believe the firearm that killed Mr. Lloyd was a Glock because the Glock has a rifling system that is different than most firearms."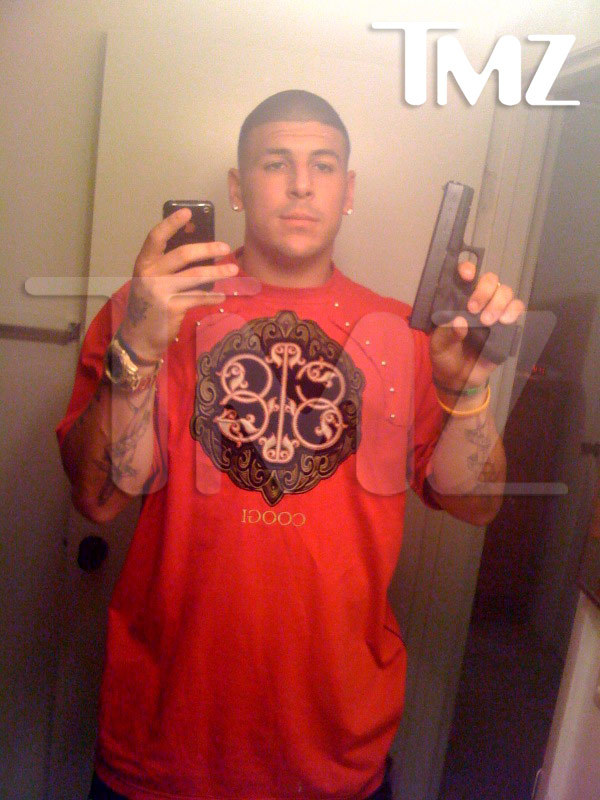 Along with being charged with murder, Hernandez also faces five weapons count, according to The Associated Press. These charges were revealed during an arraignment on Wednesday, several hours after he was taken into police custody at his home in Attleborough, Mass.
BEFORE YOU GO
PHOTO GALLERY
PHOTOS: The Aaron Hernandez Case