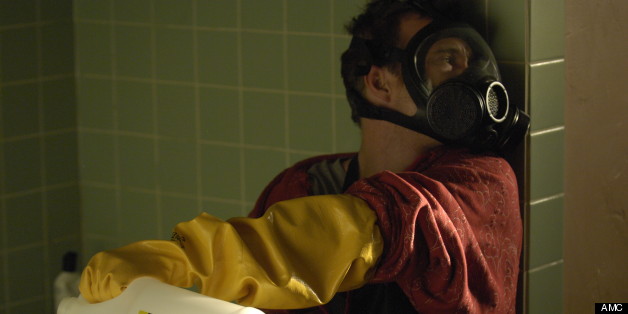 A Washington man stands accused of murdering his girlfriend, and evidence in the case suggests that he tried to cover up the crime with a technique he saw on "Breaking Bad."
Nine Mile Falls, Washington police have charged 27-year-old Jason Davis with the murder of his girlfriend, 33-year-old Regan Jolley. Davis allegedly strangled Jolley to death and then attempted to dispose of her body in a plastic tub filled with acid.
Davis' roommate, Dean Settle, who discovered the grisly scene, told KREM 2 News that "Breaking Bad" was Davis' favorite TV show. Later, police reportedly found an episode of "Breaking Bad" in Davis' DVD player.
On "Breaking Bad," meth dealer and former science teacher Walter White (Bryan Cranston) has disposed of several corpses by soaking them in vats of hydrofluoric acid. In this memorable scene from the Season 1 episode titled "Cat's In The Bag," Jesse Pinkman (Aaron Paul) puts the corpse of a rival drugdealer's body into a bathtub, and the acid eats through the floor.
PHOTO GALLERY
"Breaking Bad," Season 5
BEFORE YOU GO