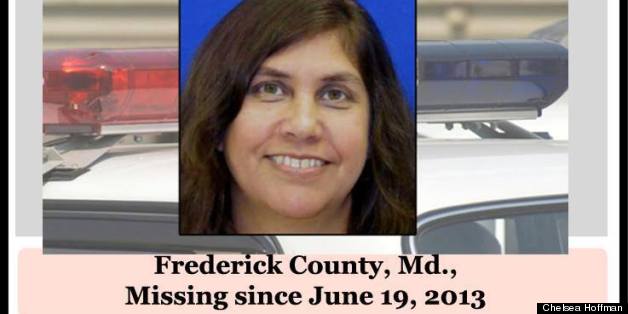 Teresa Lynn Cole Lentz, 49, left Frederick County willingly, but a sheriff's office investigation into her six-day disappearance remains open.
Lentz, who said she was going out to run errands last Wednesday afternoon and never returned home, called her family Tuesday night from a convenience store in Spotsylvania County, Va., said Sgt. Jennifer Bailey, sheriff's office spokeswoman.
The family contacted police, and Lentz was found and taken into protective custody by the Spotsylvania County Sheriff's Office, Bailey said.
Five Frederick County investigators and Lentz's husband and children met her Tuesday night in Virginia.
After speaking with her, county investigators determined that Lentz had left on her own.
"All the indications are that she left by herself and has been by herself for the last seven days," Bailey said Wednesday.
Lentz was reported missing after her daughter found her car abandoned on the side of Reel's Mill Road. Lentz's belongings were inside and the car was in working order.
The sheriff's office investigated the disappearance as a critical missing person case, conducted an intensive multiagency search and issued calls for tips from the public. The story generated enormous public interest and articles about the disappearance were included on national news sites.
Lentz's family issued a statement thanking the sheriff's office, the community and those who prayed for her return.
"We are overjoyed that she is safe and back with us," the statement said.
The family also asked for privacy.
"At this time, we would like everyone to know that we are in a family crisis situation, and that we just need privacy at this time," they wrote.
Family members could not be reached or declined to comment when reached by The Frederick News-Post before the statement and details of the case were released.
The investigation of the disappearance is not fully closed, Bailey said. The sheriff's office will review the case with the Frederick County State's Attorney's Office to determine whether to file any criminal charges.
"If charges are appropriate, they're going to be filed," State's Attorney Charlie Smith said.
In Maryland, it is a misdemeanor to cause a false police report to be made. The penalty is $500 and a six-month jail sentence.
Smith said he could not speculate which, if any, charges could be appropriate because all the facts of the case aren't yet known.
As of Monday afternoon, Bailey said the sheriff's office had received more than 40 tips about Lentz's whearabouts from the public.
"Those bits of information helped investigators create our timeline," Bailey said. That timeline is not being released at this time out of respect for the family, she said.
"We have to weigh putting information out versus exacerbating what the family is going through right now," Bailey said.
She declined to release further details about how Lentz might have left the area. CSX railroad tracks run near the spot where Lentz's SUV was found and into Spotsylvania County. The railroad's police force took part in the search, Bailey said.
The sheriff's office is relieved that Lentz was found unharmed, Bailey said.
"This is a great ending, and we're relieved that she's back," she said.
Follow Danielle E. Gaines on Twitter: @DanielleEGaines. ___