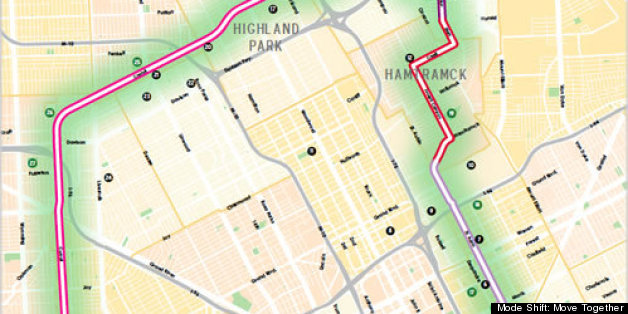 This post originally appeared at Mode Shift: Move Together, Southeastern Michigan's online hub for all things transit.
DETROIT—Taking an extended bike trip through Detroit may become a no-brainer in the not-too-distant future. A new trail project is in the works that would link together several of Motown's most well-known biking and walking paths into a big loop around much of the city.
Known as the Detroit Inner Circle Greenway, the route is being put together by the City of Detroit with the assistance of a coalition that includes the Michigan Trails and Greenways Alliance and the Community Foundation for Southeast Michigan. The cities of Dearborn, Hamtramck and Highland Park are also helping handle parts of the greenway that pass through their jurisdictions.
The 26-mile route route would fall roughly between Wyoming and Mt. Elliot to the west and east, and McNichols and the Detroit River to the north and south. It would join together the Dequindre Cut, Detroit RiverWalk and Southwest Detroit greenways with a number of others now on the verge of being built.
"One of the really interesting features of the trail is that it connects up many automotive heritage sites," Todd Scott of the Michigan Trails and Greenways Alliance tells Mode Shift. "We've already been talking with the Woodward Avenue Action Association and coordinating this trail development with their plan for the old Model T plant and we imagine that will be a major starting point for those who want to do the big loop."
Plans for the greenway date back at least half a decade, starting as an idea championed by Jim Edwards, a cycling enthusiast who works with Detroit's Law Department. Recently, however, it's started to gain some serious traction.

What are the plans? When can we bike? Head over to Mode Shift: Move Together to read the rest of this story.
BEFORE YOU GO
PHOTO GALLERY
Detroit Photos & Videos