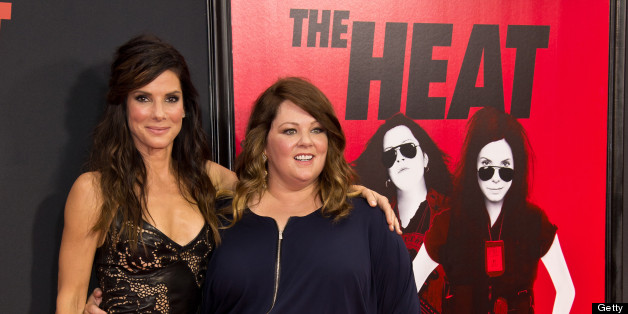 Dozens upon dozens of buddy cop comedies have come and gone at the box office over the years, mostly starring gruff straight men cracking wise while chasing outlandish criminals. We've even had one buddy cop flick, Turner & Hooch, that starred a man and his dog. Yet, until now, there's never been one featuring two female leads. Enter The Heat.
This weekend's major release stars Sandra Bullock and Melissa McCarthy as a buttoned-up FBI agent (in other words, the Bullock role) and an outspoken, outlandish, crass-in-the-lovable-way Boston detective (in other words, the McCarthy role) paired up to crack a drug ring. Bullock, coming off the successes of The Proposal and The Blind Side, is as bankable as ever, and she's in her element here. McCarthy is Hollywood's fastest rising star, parlaying her Bridesmaids Oscar nomination into her first top-lined No. 1 hit with Identity Thief.
If either actress was one half of a buddy comedy opening just before the Independence Day weekend, it would be a big deal and box-office projections would be huge. Of course, traditionally the second half of that duo would be a man—Hugh Grant, Benjamin Bratt, Jason Bateman. That the two actresses are starring in a buddy cop movie together and box-office expectations are still massive is a big deal, even if it's a depressing one.