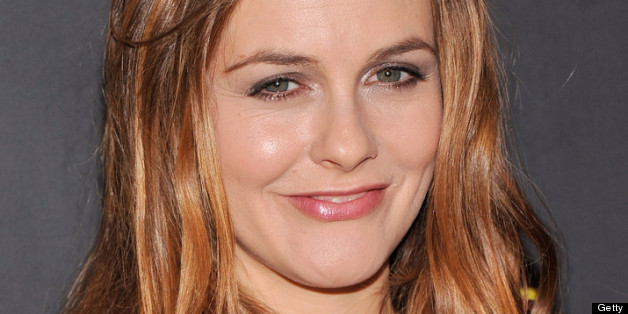 Actress Alicia Silverstone wants moms to have the opportunity to provide breast milk to their children -- even moms who cannot breastfeed. That is why she is launching a new program aimed at sharing breast milk.
Silverstone recently announced plans for the Kind Mama Milk Share, an initiative aimed at collecting breast milk for vegan mothers who might have difficulty providing milk or finding donor milk. She explained that the idea sprouted after her friend, who had breast-reduction surgery, was not able to make enough milk for her son.
"She tried reaching out in her community for donor milk, but it was almost impossible to figure out what kind of lifestyle choices the donors had made," Silverstone wrote on her blog. "And after all that hard work keeping herself vibrant and healthy, she felt she had a right to demand better for her baby."
She encouraged moms interested in joining the newly developed co-op to post if they are willing to donate or if they are in need. "[B]ecause we are a community of beautiful souls who recognize the importance of food as health, I say we help support those mamas and babies who need a hand during one of the most important times in their lives," she wrote.
This is certainly not the first online group for sharing breast milk to come to fruition. The New York Times noted in February that more and more informal networks of donors have been surfacing online, with women sharing their milk for free.
Although breast milk is considered the ideal nutrient for newborns, providing natural antibodies and immune factors, it can pose health dangers. While milk banks screen donors, internet co-ops are a bit riskier, according to the Times. Doctors have stressed that it is important for mothers to know where the milk is coming from, as the fluid can contain bacteria and viruses, including HIV.
PETA notes vegan mothers can find vegan breast milk at approved milk banks. They can also turn to soy formula.
Silverstone is one of many celebrity moms to go public with their breastfeeding stories. The 36-year-old, who is the mother of 1-year-old Bear Blu, has been open about sharing parenting stories and tips. She has even made headlines for some of her more controversial methods, including premastication, or chewing food and then feeding it to her son via her mouth.
BEFORE YOU GO
PHOTO GALLERY
Memorable Breastfeeding Moments In Hollywood