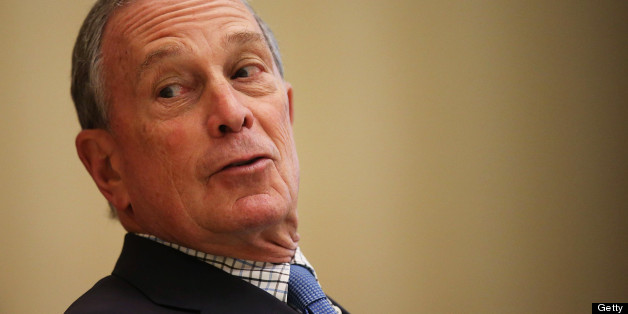 Mayor Michael Bloomberg lashed out Friday morning at two bills recently passed by the New York City Council that aim to check the NYPD's controversial use of stop and frisk.
"The racial profiling bill is just so unworkable," he told host John Gambling during his weekly radio appearance, Capital New York reports. "Nobody racially profiles."
The bill to which Bloomberg was referring allows New Yorkers to sue if they felt they've been profiled based on religion, sexual orientation, or race.
"There is this business, there's one newspaper and one news service, they just keep saying, 'Oh it's a disproportionate percentage of a particular ethnic group,'" Bloomberg added. "That may be, but it's not a disproportionate percentage of those who witnesses and victims describe as committing the murder. In that case, incidentally, I think we disproportionately stop whites too much and minorities too little."
The NYPD made 533,042 stops last year. Of those stops, 87 percent were of blacks and Latinos.
[Update: Bloomberg spokesman Marc LaVorgna, in an email to The Huffington Post, pointed to another statistic. He said that "more than 90 percent of murder suspects black/latino." And "whites are 9 percent of stops, 7 percent of murder suspects."]
The veto-proof majority by which the bill was passed is fragile, and Bloomberg has hinted he might be able to convince some supporters of the bill to change their minds, allowing him to successfully veto.
City Council Member Brad Lander, a major supporter of the two bills, shot back at Bloomberg Friday morning with a tweet:
Math for @MikeBloomberg: Of those stopped, 58% of blacks & Latinos were frisked. Only 44% of whites. But whites have guns twice as often.

— Brad Lander (@bradlander) June 28, 2013
The other stop-and-frisk bill, passed by City Council this week with a strong veto-proof majority, sets up the office of an NYPD inspector general, who will act as a watchdog over the department.
Bloomberg's "nobody racially profiles" remark recalls another sweeping statement he made last month during a chat with Gambling, when he called medical marijuana "one of the greatest hoaxes of all time."
BEFORE YOU GO
PHOTO GALLERY
Stop And Frisk Goes On Trial In NYC