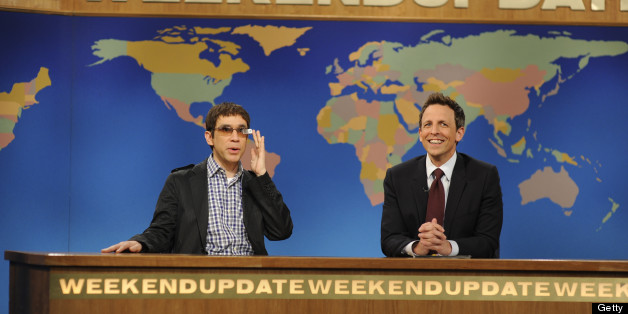 It's official: After 11 years, Fred Armisen is done with "Saturday Night Live."
In an interview with Splitsider, not only did the "Portlandia" star confirm his exit, but he said he felt he went out with a bang.
"I think it's clear," Armisen said. "I didn't do any kind of official announcement, but I really felt like it was obvious. An ending that was a love letter to all the music I grew up with, and also to my friends and to SNL and to Lorne and to the cast. There was a lot of emotion attached to it, but it was a very positive emotion."
The ending Armisen is referring to is a sketch he performed in May in which he played Ian Rubbish, a member of an English punk rock band. He was joined onstage by his "Portlandia" co-star Carrie Brownstein, plus several music legends including Sex Pistols guitarist Steve Jones, Aimee Mann and Michael Penn, Sonic Youth's Kim Gordon and Dinosaur Jr.'s J Mascis.
Rumors of Armisen's departure began to surface earlier this year, and last month "SNL's" head honcho Lorne Michaels said he didn't know if Armisen and "SNL" player Jason Sudeikis had made a decision as to whether they would stay or go.
"I don't think so. I think they're making their decisions, and we'll know soon enough," he told The New York Times in May.
PHOTO GALLERY
NBC's New Shows 2013-2014