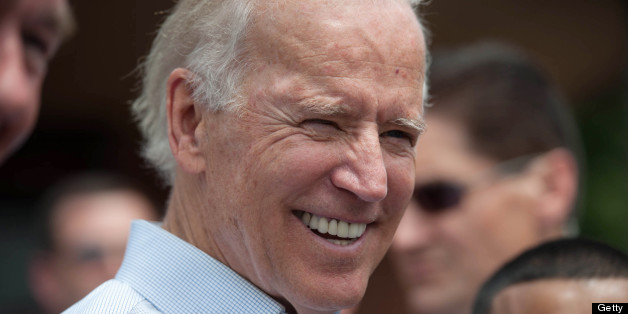 Vice President Joe Biden said Friday that he believes the country is on the verge of accepting gay marriage as a consensus issue.
In the White House "Being Biden" podcast, Biden said the American public's attitude toward marriage equality is "way ahead of its political leadership," and would propel the nation forward.
"I think we're on the verge of Americans moving even further," Biden said. "I think we'll see the day when there's no longer a debate about whether same-sex couples should be married and whether or not they deserve every single civil right every other married couple deserves."
Biden said the issue was personal. The Supreme Court decision striking down the Defense of Marriage Act, or DOMA, had a "profound impact" on his aide, Carlos Elizondo, who has been in a long-term relationship with his gay partner, the vice president said. "His whole horizon will change now," Biden said.
Biden was one of the first public advocates for marriage equality in President Barack Obama's administration. In a highly publicized interview last year on "Meet the Press", he pre-empted Obama's announcement of support for gay marriage with a candid remark that he was "absolutely comfortable" with equal rights for homosexual couples. When Obama announced his support for marriage equality, he commented that Biden was "a little bit over his skis."
More recently, Biden said discrimination against transgender people had become "the civil rights issue of our time."
BEFORE YOU GO
PHOTO GALLERY
Gay Marriage In The United States