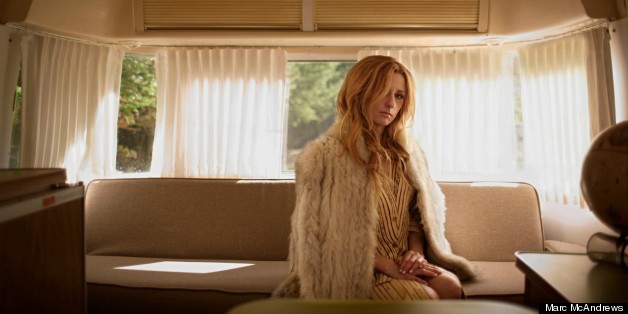 What do David Bowie, Dionne Warwick and Chris Isaak have in common? Not much, we imagine, beyond the fact that the three artists have written or performed songs covered by one female singer in particular -- Kendra Morris.
Morris is a New York-based musician, notable as the name behind the neo-soul sounds of the 2011 record "Banshee." She's known for her Amy Winehouse-esque singing and songwriting, but the chanteuse has turned to cover songs for her most recent project, a soon to be released album cleverly titled "Mockingbird."
From Lou Reed to Radiohead, Morris tackles a formidable collection of ballads for the LP, following in the footsteps of Cat Power by adding her own spin to hits like the Rolling Stones' "Miss You." In anticipation of the record release, we caught up with the singer to talk karaoke, early musical influences and her obsession with visual arts.
Who or what was an early influence on your music?
When I was a kid I would break into my parents' record player and I used to treat myself to their records -- Jackson 5, Marvin Gaye, Crosby, Stills, Nash and Young. I also had a karaoke machine and I would take it into my closet and I would just sit there -- I wasn't a very social kid -- and learn how to do the different vocals on this machine. I just wanted to sit in my closet and make songs. My parents would ask, "Why arent you playing with other kids?" I was seven years old, but I just wanted to create my own world. My dad, Don Morris, is a visual artist, so I learned to express myself at an early age. It keeps you from going crazy.
What have been the lowest/highest points in your career so far?
I remember one low point. I had just moved to New York, which was tricky, because everybody was moving here for a dream or a reason. I came here to be a singer, but I really got sucked into the party scene of New York. All of a sudden, I felt like I was just telling people I was a singer but I wasn't doing shit. I had no projects going on, but I was really good at drinking and partying with the best of them. I decided I had to change a lot of from there on out. I reset my priorities and figured out what was important to me. New York throws all these tests in front of you, it puts the Apple right in front of you.
And then the highest point -- there have been so many of them! I was getting on a stage a couple of months ago and it was a sold out show and I was looking out and not recognizing anyone in the audience. I thought, how do these people know about my music? There was also one time when someone just screamed "Concrete Waves" at me on the street, and I was like, What?
How would your childhood music teacher describe you?
Was it Ms. Knight or Ms. Nelson? I think Ms. Knight. She would probably describe me as tiny with a big voice. I always had to sing in everything we did. I was kind of quiet otherwise, but when you got me on a stage, that's where I was happiest. I think she knew how much I loved it then. Maybe as strong-willed, too.
What are you obsessed with right now (outside of music)?
I've been really obsessed with illustrators. I love art and I've been following these illustrators on Instagram and they've really been inspiring me. One is @bonethrower (David Cook). I like the kind of illustrations that are sort of nods to Grindhouse or horror movies, which are other things I'm obsessed with. I don't know if it's part of my dad coming out in me, but I love how people can make pieces of paper come to life. I do collaging on the side and I've been working on a stop-motion video. That's the exciting thing about putting out your own music. There are no rules, right? I wanted to make collages come to life, using old Playboys and old nature books and textbooks. and we're working on the storyboard. There are no boundaries to self-expression.
Why does this project -- Mockingbird -- matter?
I think it's so important to take a cover song and make it your own. You love the song for a reason, so you should be respectful of that, but you should bring your own things to it. Show what the song is capable of. Not one of the songs on this album is exactly like the original, whether it's Metallica or Radiohead. It was just a lot of fun to do that and breathe a different life into the songs. Not a new life, of course, because they never died. Just a differet one. You know, there are some people that listen to my music who've never listened to the Proclaimers. To do an entire album like this, and get the ok on it, has been great. I liked the challenge of jumping into the fire that came with it.