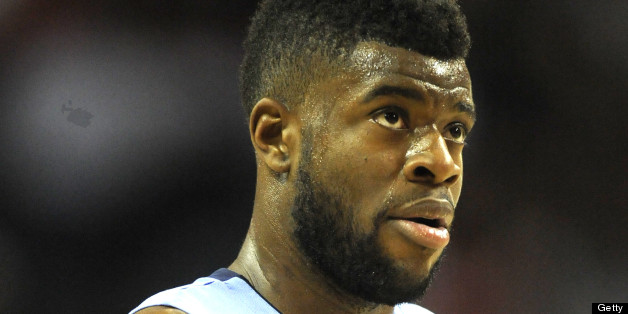 LOS ANGELES (AP) — There were a lot of people who thought Reggie Bullock was making a mistake by declaring for this year's NBA draft with one year of eligibility still remaining at North Carolina.
Even his former college coach, Roy Williams, felt that he could improve his standing by playing one more season with the Tar Heels.
Bullock disagreed.
So did the Los Angeles Clippers.
The Clippers had one selection in Thursday's NBA draft — No. 25 overall — and they used it on Bullock.
"I wouldn't say I was surprised but I was pleasantly pleased," Clippers vice president of operations Gary Sacks said, referring to Bullock's availability when it was his team's turn to make a selection. "He was one of our top guys on our board and we felt like what he brings to the table will really help us. He brings a couple of things to the table that can help us right away."
The 6-foot-7, 205-pound shooting guard showed steady improvement during his three years with the Tar Heels. He averaged 13.9 points per game in 2012-13 while being selected as a second team All-ACC player.
He ended his collegiate career with 188 3-pointers, good for eighth place on UNC's all-time list. His career .387 shooting percentage from behind the 3-point line is 11th best in school history.
Bullock helped the Tar Heels to a 20-11 record last season. North Carolina ended its season in the second round of the NCAA tournament with a 70-58 loss to Kansas.
The last couple of days have been hectic for the Clippers, with the draft and recent hiring of Doc Rivers as coach. One thing that made the transition and timing more manageable was the fact that Rivers, as the Boston Celtics coach, also had an eye on Bullock. He might be an even better fit for the Clippers.
"I like him," Rivers said. "That's one of the guys that we wanted. We felt like we needed more shooting and he does that.
"Having been a guy that went to a lot of Duke games and Duke-North Carolina games, I got to see him up close. He has size, can play the small forward position, he can shoot it on the catch and he can defend. Those are all of the things that we targeted, and that's what we got."
One part of Bullock's game that caught Rivers by surprise was his defensive skills. Rivers knew that Bullock had a shooting touch from the outside but the added skill comes as a bonus.
"One thing I didn't know was that he could defend," Rivers said. "I'd heard about it but I was surprised by his size and defense."
"I think he takes pride in guarding his man," Sacks added. "I think he's really good as a team defender and working within a system. He puts a lot of effort into his defensive ability and he wants to shut down the guy he's guarding."
Rivers said he is happy with what he sees on the Clippers' current roster and feels that it would be better to add to it than to take away from it. Bullock seems to be a good fit for that strategy.
"He knows what he does and he never strays away from that," Rivers explained. "You could tell that Williams was probably beating that into him: 'You're a shooter. You're a catch-and-shoot player.'
"But he never put himself in a position where he could make a mistake and that's really nice when you see players like that. When he was open, he shot it. There was no hesitation. When he wasn't open, he passed it. He didn't try and do too much."
Since the Clippers had just one selection in the draft, Sacks said that he contacted other teams about the possibility of adding more picks but that nothing worked out.
He didn't seem too disappointed. As far as the Clippers were concerned, they got exactly what they were looking for.
BEFORE YOU GO
PHOTO GALLERY
NBA Draft 2013: First Round Results