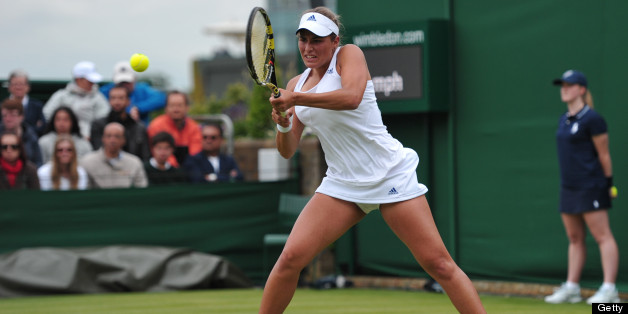 #PicaPower is on the rise -- in Wimbledon and on Twitter.
The hashtag has become popular largely thanks to singer Ricky Martin, who seems to be quite captivated by a young tennis player currently competing at the Wimbledon tennis tournament in London.
Mónica Puig may not be very well known in Women's tennis just yet -- currently ranked No. 65 -- but the 19-year-old athlete surprised her native Puerto Rico on Monday by defeating the No. 5 ranking tennis player in the world, Italy's Sara Errani. And it seems the young Puerto Rican player has received much of her inspiration from her famous compatriot, Ricky Martin.
Que bueno empezar el dia con buenas noticias!ORGULLOSO de una de las nuestras! @MonicaAce93 Felicidades! Pa'lante! #PuertoRico en #WIMBLEDON

— Ricky Martin (@ricky_martin) June 24, 2013
"It's great to start the day with good news! PROUD of our own! @MonicaAce93. Congratulations! Keep Going! #Puerto Rico in #Wimbledon," the 41-year-old singer tweeted shortly after Puig's big win.
When Puig advanced to the second round and defeated Spain's Silvia Soler-Espinosa, Ricky continued to cheer on the Puerto Rican player via Twitter.
#Wimbledon Pa'lante @MonicaAce93!!!! Felcidades!

— Ricky Martin (@ricky_martin) June 26, 2013
"#Wimbledon Keep Going @MonicaAce93!!! Congratulations!" the singer tweeted.
The supportive friendship between the star and Puig began in April, after Puerto Rico's governor introduced the two over the phone, according to BBC Mundo.
"Ricky's support has been something so great and huge, he's a national hero," the tennis player told BBC Mundo.
Though it seems it's not only Ricky Martin's tweets that inspire Puig, the tennis player confessed to BBC that his music, specifically the song "Más" that "is about two boricuas that believe in something and want to grow and make it happen," motivates her.
On Friday, Puig will face her third match at Wimbledon, this time against the Czech Republic's Eva Birnerová -- and as way to prepare the Puerto Rican player for her match, Ricky took to Twitter once again:
.@MonicaAce93 te queremos Mónica y estamos muy orgullosos de ti. Eres una campeona! #OrgulloBoricua

— Ricky Martin (@ricky_martin) June 28, 2013
"@MonicaAce93, we love you Mónica and we're very proud of you. You are a champion! #BoricuaPride"
BEFORE YOU GO
PHOTO GALLERY
Mónica Puig