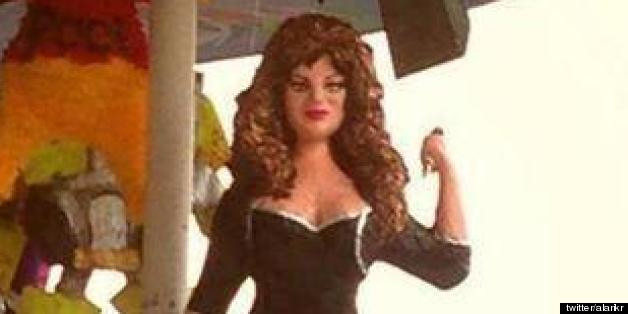 The Jenni Rivera piñatas have caused anger among the singer's family and outrage the fans. The candy filled party favor sport Jenni's style of loose locks, short skirts and heels.
According to the Latin Times, Roberto Martínez, the piñata maker who lives in California, said in an interview with TV show "El Gordo y la Flaca" that ever since he started making them he's received many requests from fans, who are willing to pay from $200 to $300 for a piñata. "It all started when fans started requesting something to remember her, and someone came up with the idea of a Jenni Rivera piñata," said the creator of this controversial party amusement.
He added that everything he does is with respect and that it's an art. "This piñata is harder to make because you have to mold it. I see it as a way of respecting and honoring her memory because she just died, and I'm aware that we use piñatas to beat them with sticks and break them, but I see it differently. It's an art. It can be seen as a statue that you can have in your bedroom or a memory of her," he said.
(Story continues below)
Ya lo decidí, en mi cumpleaños va a haber una piñata de Jenni Rivera. pic.twitter.com/85RGDbn6w3

— AlarikR (@alarikr) June 27, 2013
Jenni Rivera piñatas cause controversy among fans and family
The "Diva piñatas" as they are called have created a social media controversy among fans and her family members. Jenni's sister, Rosie took to Twitter to express her feelings about the piñatas after some fans asked her about the matter.
"Jenni's not sad. She is at peace now. This is disrespectful to the children, parents, siblings and people who she loved that were left behind," Rosie wrote in response to a fan who commented that Jenni would have been sad because of the piñatas. "I need the address of the business that is doing this, can anyone help?" Rosie tweeted.
Jenni Rivera, along with six others, died in a plane crash near Iturbide, Nuevo León, Mexico, on December 9, 2012.
Originally published on VOXXI as Jenni Rivera piñatas cause controversy among fans and family
BEFORE YOU GO
PHOTO GALLERY
Jenni Rivera